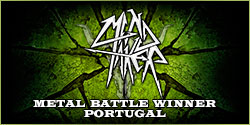 Metal Battle 2016 - Introduction of the last three finalists
Here are the last three finalists for this year's Metal Battle. Portugal, India and Germany are presenting their winners.
Let's start with Portugal: Mindtaker are a young band from Redondo. But they are out to prove their right to smash the stage with their oldschool thrash metal.
Next is India: The winner of the Metal Battle India have been selected at the Bangalore Open Air and Elemental were superior. The guys are from Bhopal and play extreme death metal.
Last but not least: The German winners were chosen at the Dong Open Air and they chose Syndemic from Hamburg. They play Death Metal and are very happy to get a chance to play at Wacken Open Air.
We wish all of the young bands good luck and we will all see you at Wacken Open Air!