Important
This article is VERY old (older than 2 years)!
Metal-Battle Winner Faroe Islands - Hamferð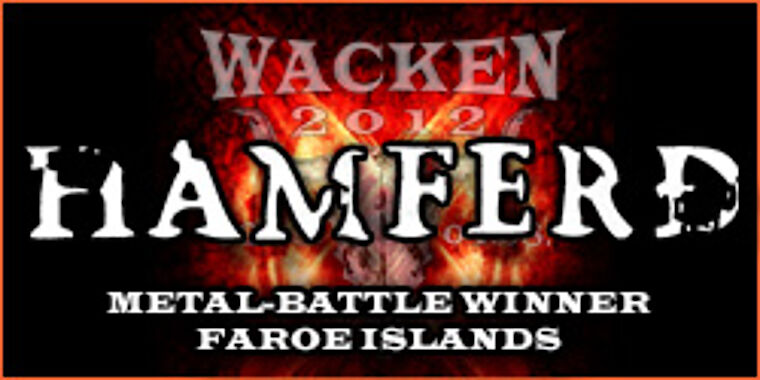 Today we´ll present you the next Metal-Battle finalist!
This time we take a look at the Faroe Islands which participated for the first time in the international contest.
At the national finals the doom metal band Hamferð gained the victory.
Since the band was founded in 2008 they gained a lot of attention and positive critics as you can see in the following quotes:
"Debut album of the year, no doubt!" - doom-metal.com
"The music itself is just pure perfection."(99/100) - metal-archives.com
On Hamferðs facebook page you can get an impression of their music:
Congratulations to Hamferð - we are looking forward to see you guys at the finals!
See you at Wacken, rain or shine !!!'
Further finalist will follow soon!
More under Billing/Bands
All further news about Metal-Battle FAROE ISLANDS can be found under
www.metal-battle.com/countries/faroe-islands
Appendix 25th May 2012
Today we received a video summary of the event at this years Faroe Islands finals - have fun!
<script type="text/javascript" src="http://www.wackentube.com/js/embed.js.php?id=3367"></script><noscript><object type="application/x-shockwave-flash" data="http://www.wackentube.com/vimp.swf?playlistmode=media&amp;mediaid=3367&amp;webtv=false&amp;hosturl=http%3A%2F%2Fwww.wackentube.com%2Fflashcomm.php" id="flashcontent_4fbfa0eb896ff" classid="clsid:d27cdb6e-ae6d-11cf-96b8-444553540000" name="c6a80378-3eb2-47e7-8415-ba1f7cff037e" codebase="http://fpdownload.macromedia.com/pub/shockwave/cabs/flash/swflash.cab#version=9,0,0,0" width="480" height="360" align="middle"><param name="movie" value="http://www.wackentube.com/vimp.swf?playlistmode=media&amp;mediaid=3367&amp;webtv=false&amp;hosturl=http%3A%2F%2Fwww.wackentube.com%2Fflashcomm.php" /><param name="width" value="480" /><param name="height" value="360" /><param name="align" value="middle" /><param name="quality" value="high" /><param name="allowscriptaccess" value="always" /></object></noscript>