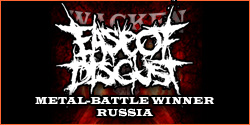 Metal-Battle Winner Russia - Ease Of Disgust
Ease OF Disgust - that´s the name of the band which won the national Metal-Battle Finals in Russia.
The band from Moscow was founded in 2009 and released 1 EP and 1 full lenght album which crushed into the local metal szene. After that 2 big tours followed and now they will come to Wacken to blow the audience away with their brutal death metal mixture - Be prepared!
To give you a small impression of what awaits you, check out the official music video of the band:
Ease Of Disgust - I, The Prophecy
<script type="text/javascript" src="http://www.wackentube.com/js/embed.js.php?id=3102"></script><noscript><object type="application/x-shockwave-flash" data="http://www.wackentube.com/vimp.swf?playlistmode=media&amp;mediaid=3102&amp;webtv=false&amp;hosturl=http%3A%2F%2Fwww.wackentube.com%2Fflashcomm.php" id="flashcontent_4fd1d52534ef0" classid="clsid:d27cdb6e-ae6d-11cf-96b8-444553540000" name="c6a80378-3eb2-47e7-8415-ba1f7cff037e" codebase="http://fpdownload.macromedia.com/pub/shockwave/cabs/flash/swflash.cab#version=9,0,0,0" width="480" height="360" align="middle"><param name="movie" value="http://www.wackentube.com/vimp.swf?playlistmode=media&amp;mediaid=3102&amp;webtv=false&amp;hosturl=http%3A%2F%2Fwww.wackentube.com%2Fflashcomm.php" /><param name="width" value="480" /><param name="height" value="360" /><param name="align" value="middle" /><param name="quality" value="high" /><param name="allowscriptaccess" value="always" /></object></noscript>
Congratulations to the band – we are looking forward to see you at the Metal-Battle finals!
See you at Wacken, rain or shine !!!
Further finalists will follow!
More under Billing/Bands
All further info about the Metal-Battle in Russia under:
www.metal-battle.com/de/countries/russian-federation/