Important
This article is VERY old (older than 2 years)!
METAL DREAM GIRLS CALENDAR and Jan Oidium at WOA 2006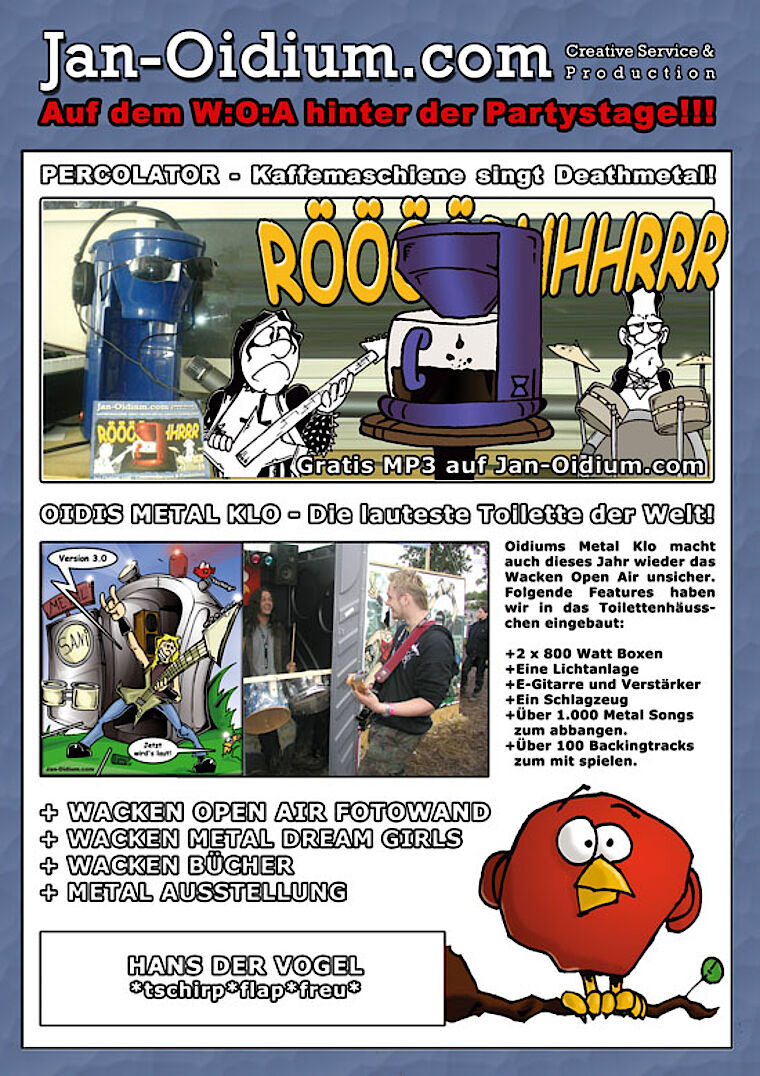 METAL DREAM GIRLS VOTING will end soon:
At 14th of July we will choose the winners of this year the Metal
Dream Girls contest. You can still join the voting or vote for your
favourite candidate at www.metaldreamgirls.de
JAN OIDIUM AT WOA 2006
Jan Oidium presents his small world of metal fun at this year's
Wacken Open Air. You'll find his stand behind the Party Stage.
METAL TOILET:
We built the smallest stage on earth in a mobile toilet. Our box
contains an electric guitar with amp, a complete drum kit, 2 x 800
Watt speakers and a light-show. Additionally we have more than 1.000
Metal songs for headbanging and 100 backing tracks to play along with.
PERCOLATOR:
Our star at the Wacken Open Air at Oidium's stand. A coffee machine
that became a Death Metal vocalist. PERCOLATOR'S song is available
for downloading at www.jan-oidium.com .
Additionally to these features we showcase Wacken Open Air books, the
new Metal Dream Girls Calendar, Hans der Vogel and our special W:O:A
photo wall, where you can take pictures to have a nice souvenier from
Wacken.