Metalium & Seventh One Bio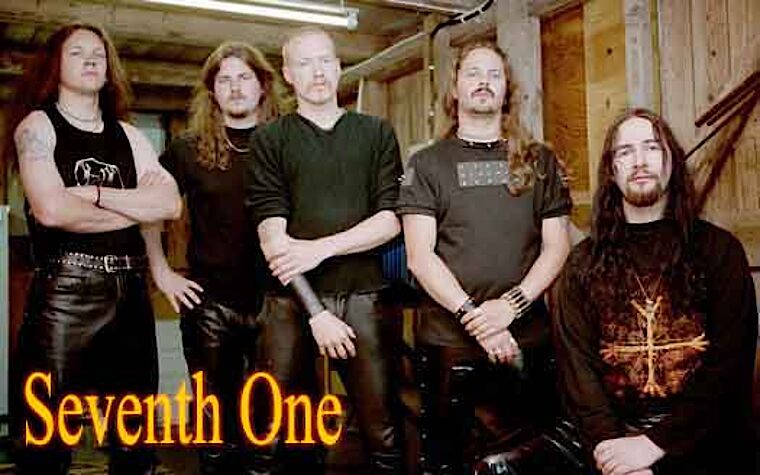 The Legend of the Metalian continues !
The success story of Metalium continues with their highly awaited third studio release ?Hero-Nation chapter three?. Reaching a new level in both, the lyrical conception story of the Metalian as well as the musical development of the band. After 2 European tours, several Festival appearances and two successful albums behind them, the 4-piece still didn?t care about trends of the scene, but still were able to make an impressive step ahead.
This Impact is the result of a natural strengthening process within METALIUM?s former foundation Henning Basse (V), Matthias Lange (G) an Lars Ratz (B) during 3 years of existence, in addition with newly added Michael Ehre on drums.
This line-up is the first in the bands existence all members as songwriters, to create a multi-layered musical journey without loosing the feel for their potential Metal-Hits. Still the METALIUM-Sound is dominated by their typically ingredients such as the strong riffing, solid energy, high instrumental performance as well as Henning Basse?s outstanding vocal abilities, which once more underlines his unique class in today?s international Metal scene. The balancing of these elements are more exciting then ever before, as for the first time the group also created mid-tempo Groovers for this new output for the first time, in addition to the typical up-tempo speed rockets and sensitive ballads, which became a trademark of METALIUM?s sound and still impresses over and over again !
Not to mention the massive production (once more produced by Lars Ratz), which comes with a solid wall of sound to the listener, but still always keeps the transparency alive and breathing space for each instrument.
Also lyrically a concept-story couldn?t be more variable and exciting, as the Metalian (already known as the key figure from ?Millennium Metal - chapter one? and ?State of Triumph - chapter two?) travels to several edged of the world, experiencing adventures, tortures or successes of the historical human existence.
This way the HERO?s soul lives through a re-incarNATION of most historical figures and reflects the highest dramatic moments of their life time (that moment is called ?HERO-NATION? the record is named after)
The Metalian souls dives into Nero (Italy), El Cid (Spain), Odin (Scandinavia), Jeanne D' Arc (France), Rasputin (Russia), Odysseus (Greece), the Lorele (Germany), find himself being a Samurai, experiences the history of the Incas and even will appear as Romeo meeting Juliet in Shakespeare?s masterpiece.
The drama features the famous extraordinary award-winning German Soprano Carolin Fortenbacher with her 5 - octave range as ?Juliet? which is guaranteed to give you goosebumps, complimenting Henning vocals as ?Romeo?
?Hero-Nation chapter three? will be completed by 2 other very special guest appearances. No other than Don Airey (Rainbow, Ozzy Osbourne, Whitesnake, Black Sabbath, a.o.) is responsible of the tasteful Keyboard-arrangements on this record and Ken Hensley (former-Uriah Heep and responsible for their biggest Hits) was even able to give a new facet the METALIUM-Sound with his legendary Hammond-Organ sound.
The high musical quality of this output goes hand in hand with Markus Mayer?s amazing artwork and layout of the 20-pages booklet which is simply rare on a Metal-Release nowadays.
"Millennium Metal ? chapter one" was the most successful Metal-debut of the year 1999 (Media Control Charts), "State Of Triumph ? chapter two" pushed the boarder level 2000 even higher, but "Hero-Nation ? chapter three" is METALIUM?s masterpiece to date!
...to be continued!
BIOGRAPHY SEVENTH ONE
SEVENTH ONE are undoubtedly the hottest newcomer coming from Sweden since Hammerfall's debut. The quintet was founded by in 1997 by the guitarists Christopher Hermansson and Johannes Losbäck, who found the perfect addition with Norwegian viking vocalist Rhino. The Swedes Jörgen Olsson (bass) and R. Kellgren (drums) completed the line up. With their first two recorded songs SEVENTH ONE immediately won the Music Contest of the Swedish west coast and were awarded for best instrumentalists, best singer and...best band. Afterwards the band released a 4-track demo in 1999 which could cause a lot of attention in the metal scene. Rock Hard chose the band for their "Unerhört"-CD sampler and also Heavy oder was? recognised the enormous potential of SEVENTH ONE and picked them for their "Hottest unsigned bands"-CD sampler. With those tracks chosen SEVENTH ONE could massively improve their acceptance in the metal scene even in the demo stadium and several deal offers logically followed. Producer Lars Ratz (Metalium) decided to produce the band and SEVENTH ONE signed a deal with Massacre Records.
In January 2002 the recordings for the debut album "Sacrifice" started at the Tornado Studio in Hamburg, Germany with Lars Ratz producing. For the cover artwork one of Europe's most famous artist Markus Mayer (Nightwish, Metalium, Edenbridge, Grave Digger a.o.) could be won. The mastering took place in the famous Soundgarden studio in Hamburg. SEVENTH ONE combine the ultra-tight Swedish playing instrumentalists with the outstanding Norwegian feel for melodies and rough quires, offered the listener the best of both Scandinavian parts in one! "Sacrifice" impresses with metal in its purest form and an extraordinary professionalism on a debut. Uptempo smashers like "Eternal Life in Lies", "Sacrifice" or "Eternally" impress as well as the mid-tempo "Hollowed Ground" or the majestic "Seventh Eye".
Singer Rhino's strong voice is far away from high-pitched screaming by other bands and the big advantage of SEVENTH ONE are their Viking choirs which give them a great own profile. SEVENTH ONE are metal, without any doubt. Don't miss this one!