Metalville Tour 2011 on Metaltix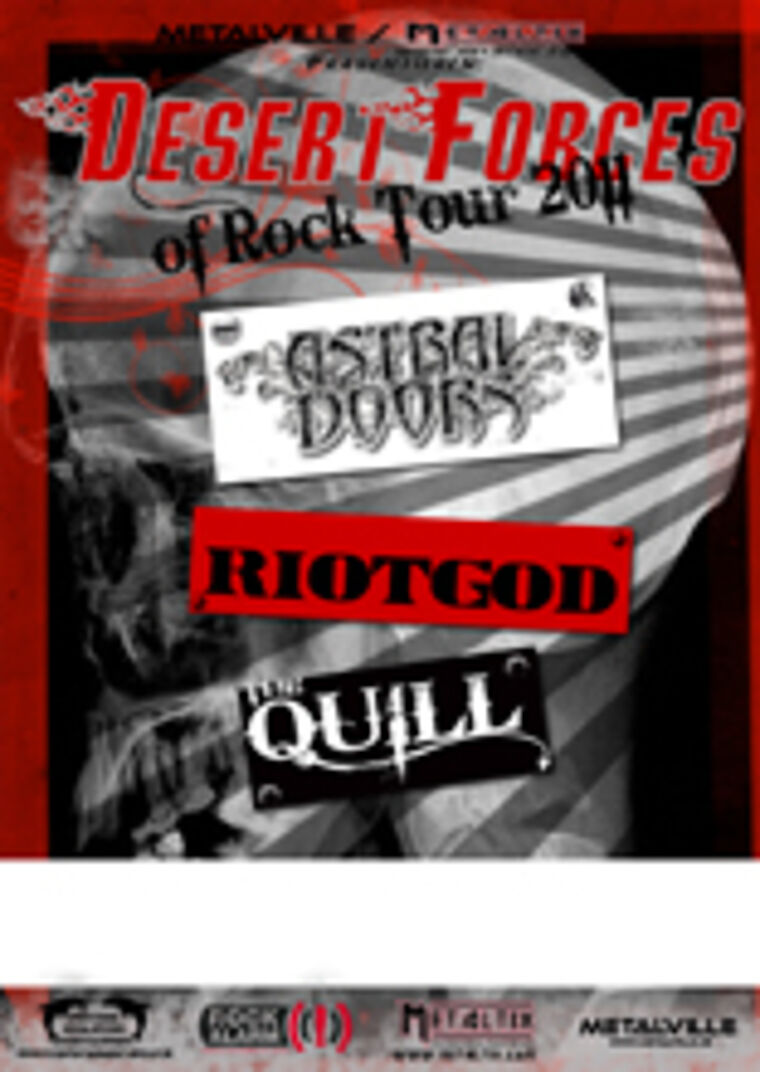 In 2011 three bands which are very rare in our territories will unite for a unique tour.
Astral Doors, Riotgod and The Quill will hit the road for their Desert Forces of Rock Tour 2011.
Astral Doors had toured with Grave Digger, Blind Guardian and Doro in the last month.
Now they are back on the road with a lot of experience and a new studio album.
After the successful debut album and minitour in 2010 Riotgod is back with the second album and ready for the 2nd tour.
The third of that group – the Sweden Stoner Rock Band The Quill – will release a new album after 5 years of abstinence in July 2011 which might be the best album they ever have produced.
Tourdates:
SAT 15.10.2011 Frankfurt GER Musikkeller
SUN 16.10.2011 Karlsruhe GER Stadtmitte
MON 17.10.2011 Ingolstadt GER Cafe Zentral
TUE 18.10.2011 Wien A Viper Room
TUH 20.10.2011 Salzburg A Club b.lack
SAT 22.10.2011 Winterthur CH Gaswerk
SUN 23.10.2011 Geiselwind GER Strohofer
MON 24.10.2011 Dresden GER Puskin Club
WED 26.10.2011 Hamburg GER Logo
TUH 27.10.2011 Berlin GER K17
FRI 28.10.2011 Osnabrück GER Ballroom
SAT 29.10.2011 Moers GER/NL Bollwerk
SUN 30.10.2011 Tongeren B Rockstage
Get your tickets for the Desert Forces Of Rock Tour 2011 and see this trio live on stage!!
Get yout tickets at www.metaltix.com!