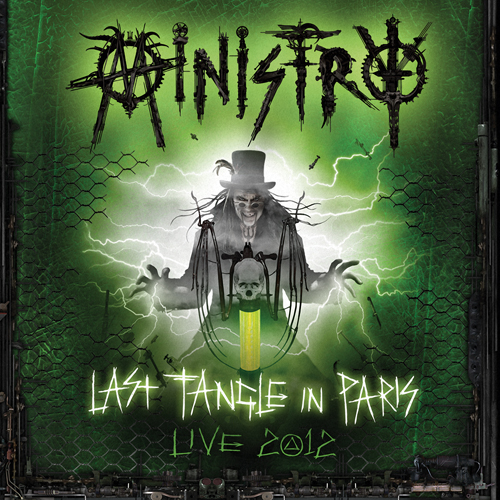 Ministry "Last Tangle in Paris" - to be released on July 7th, 2014
Ministry wrote and changed the music industry. The band as a sonic bomb that knocked the world off its feet. After 31 years of performing this will be the last ever live document – The Last Tangle In Paris
Ministry's 'Last Tangle In Paris' documents a time capsule in music history which will never be repeated. In addition to Ministry's live performances it also embodies rare backstage footage and one-on-one interviews.
Ministry founder and front man, Al Jourgensen, always stated that there will be no tour ever again and this release is Ministry's last live performance and document.
The US leg of the DeFiBRilLaTouR was a four-city run in Denver, Los Angeles, New York, with two shows in Chicago. After that the band embarked on their seven-week European leg of the DeFiBRiLlaTouR including festivals and shows in Finland, Norway, Sweden, Denmark, Germany, The Netherlands, Belgium, France, Ireland, United Kingdom, Spain, Switzerland, Poland, Hungary, The Czech Republic and Russia.
Legendary songs performed and content on the DVD include Psalm 69 and New World Order. As a special bonus the digipak version includes a Ministry tour retrospective double audio album with live performances dating back to 2006.
This last and precious statement is available in 2CD & DVD digipak, BluRay & 2 CD Amaray, 2 x Vinyl Gatefold 160 gram as well as digital audio and video and as simple CD package
Line Up:
Al Jourgensen (lead vocal & guitar), Michael Scaccia (guitar), Sin Qurin (guitar), John Bechdel ( keyboards & samplers), Aaron Rossi (drums), Casey Orr (bass)
<iframe width="600" height="338" src="//www.youtube.com/embed/d7J6zq2F0WM?feature=player_detailpage" frameborder="0" allowfullscreen></iframe>
DVD/BluRay Tracklisting:
1. Ghouldiggers
2. No 'W'
3. Senor Peligro
4. LiesLiesLies
5. 99%ers
6. Life Is Good
7. Relapse
8. The Last Sucker
9. Psalm 69
10. New World Order
11. Just One Fix
12. Thieves
Audio CD Tracklisting:
1.Ghouldiggers
2. No 'W'
3. Senor Peligro
4. LiesLiesLies
5. 99%ers
6. Life Is Good
7. Relapse
8. The Last Sucker
9. Psalm 69
10. New World Order
11. Just One Fix
12. Thieves
CD 1
Retrosperspective Tracklisting:
1. Ghouldiggers
2. No 'W'
3. Senior Peligro
4. Rio Grande Blood
5. LiesLiesLies
6. 99%ers
7. Life Is Good
8. Relapse
9. The Last Sucker
CD 2
Retrosperspective Tracklisting:
1. Psalm 69
2. New World Order
3. Just One Fix
4. Thieves
5. Khyber Pass
6. Fear is Big Business
7. Let's Go
8. Watch Yourself
9. So What