More sound and news names - for our stages in the infield!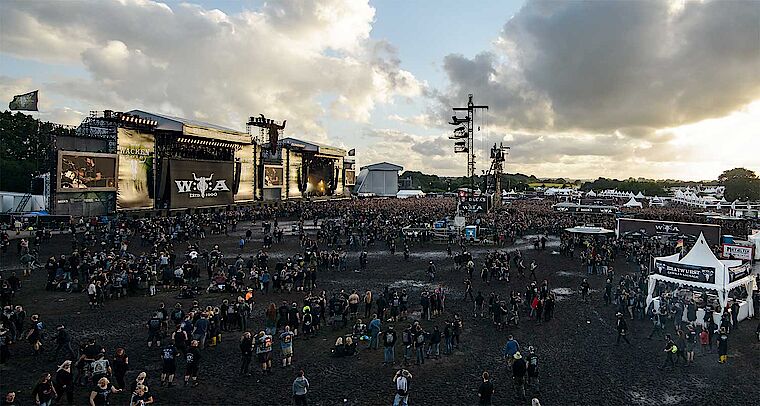 We are preparing some small and some big changes for the upcoming Wacken Open Air! The construction work from last autumn were only the first step of our investments and improvements.
Today's news is about the big stages and the sound in our infield. More news will follow soon!
The stage names:
Last year we asked you to submit suggestions to rename the Party Stage. More than 1000 suggestions reached us and they covered a huge range of ideas. Thank you for your ideas and your support!
Some of the ideas were amazing! But still, none of them felt right for us. After many, many discussions, we came to the, at least for us, right idea: We need to understand our three big open air stages as one unit.
The solution suddenly was obvious: Our most important slogan is Faster Harder Louder! Three words that perfectly describe both the festival and the metal scene. And we have three really big stages.
The Black Stage becomes Faster. The True Stage is Harder. And the former Party Stage will be known under the name Louder.
The sound:
We always aim to deliver the best metal sound that is possible! To improve the situation once more, we will upgrade all three main stages together with the experts from Crystal Sound.
The area in front of the twin stage Faster and Harder gets an additional third row of speakers that improves the sound for the rear areas. If you like to watch the concerts from a little distance, you will get great sound from this second delay line.
The Louder stage gets an upgrade too! Until now we only installed a few delay speakers at the rear of the FoH-tower. Now we will install a real delay row for this stage, too! The goal is the same: More sound for the crowd, especially in the back of the area.
The new stage house:
Important parts of our Party Stage aren't available this year. Due to this, the Louder stage not only gets a new name and more speakers but also a new design!
The stage will become a tremendous round arch stage! This new stage offers the bands as much space as the old one and still outdoes many other festival stages all around the world.
W:O:A 2017 – 03.08. - 05.08.
With Volbeat, Accept, Alice Cooper, Megadeth, Amon Amarth, Marilyn Manson, Avantasia, Kreator, Status Quo, Emperor, Morbid Angel, Heaven Shall Burn, Mayhem, Paradise Lost, Rage, Trivium, Napalm Death, Annihilator and more than 100 additional bands!
Buy one of the last remaining tickets now - here at www.metaltix.com!