New bands and tickets - all the details about Bullhead City!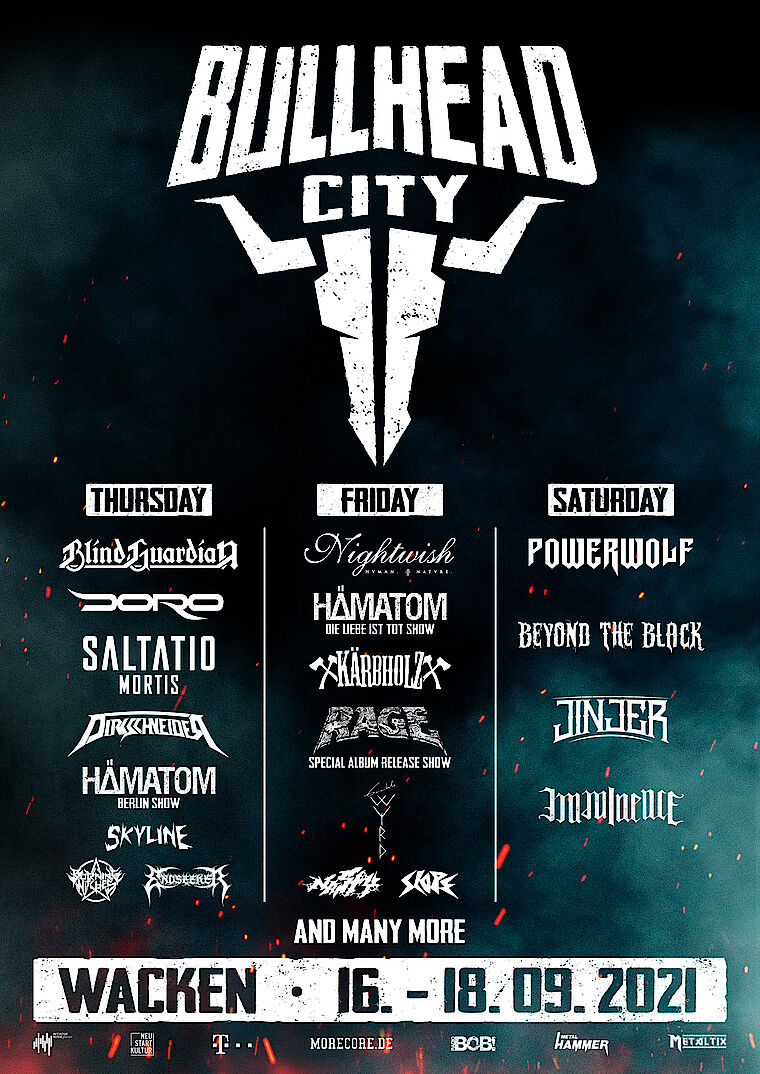 Dear Metalheads,
the presale for Bullhead City will start soon! However, before Metal can return home to Wacken, there' s still some info missing. That' why we are happy to reveal more bands today, give details about ticket sales and also answer some questions about the proceedings on site. Grab a drink and a little bit of time and you' re good to go!
What can I expect on site?
Bullhead City will not be Wacken Open Air light nor a W:O:A 2.0 or anything like that, instead it will be an original metal festival in Wacken with its very own character. We are planning with a total of four stages (and the incorporation of our new forest into the event area) to share magical moments with you. As always, our focus is on Metal in all its various shades.
Our forest and our main stage at Bullhead City Plaza are just two special features of the festival, the third will be our big beer garden - if all goes according to plan, we will present you with nothing less than the world''s biggest beer garden of 2021! We're not just talking about physical dimensions and lots of seats, the culinary delights will also be bigger than ever at our festival. Ultimately, we all have missed out on those things too long.
Who will play alongside Nightwish and co?
Hämatom
Fan favorites Hämatom will be playing two sets at Bullhead City - first there's the last acoustic show of the "Berlin" era on Thursday, and then on Friday there's full blown grit and the classic rock show. The band proclaims that "Die Liebe Ist Tot" ("The love is dead") - but our enthusiasm for Hämatom is far from over!
Dirkschneider
Udo Dirkschneider certainly is one of the biggest names in the German metal scene. He recorded his first album with Accept back in 1978, and hasn't quietened down a bit since then. To the contrary, in the meantime he has devoted himself to two projects at once: With U.D.O. he plays songs from his 17(!) solo albums, and with Dirkschneider he dedicates himself to his previous work and the great Accept classics.
Jinjer
Perhaps some of you still remember the spectacular performance by Jinjer at W:O:A 2019. Because in 2021, only a few bands present themselves more modern and versatile than this outfit. Especially on stage, the quartet is always at their very best, as evidenced by their first live album, released last November, among other things. This is going to be a treat!
Beyond The Black
Beyond The Black have made good use of the time off due to the pandemic, for example by releasing their fourth album - but the symphonic metal band has been eagerly been waiting to get back on stage and the audience in front of them again for a long time.
Rage
"Hey, would you like to play for us in September? On 17.09?" "Sure! That's when our new album comes out" - boom, the signing and the album release show were ready. You can look forward to the world premiere of "Resurrection Day" and the great classics from the Rage catalogue!
Imminence
Swedish metalcore band Imminence has been making a big splash since 2014, and not just in their own scene. Thanks to four albums full of modern metal, Imminence can look forward to steadily growing interest - after their gig in Bullhead City, they will once again have gained quite a few fans.
Kärbholz
Full throttle rock'n'roll - this has been Kärbholz's motto since the 2000s. And of course, the perfect soundtrack for merry celebrations in Wacken will not be missing this year either.
Skyline
Would metal in Wacken be complete without Skyline? Be honest, that actually can't be true. Wacken Open Air was basically founded for Skyline to play, and since successes are meant to be repeated, they will now also help Bullhead City get off to a flying start.
Who's playing at what date?
Since there will also be day tickets for Bullhead City, many of you will certainly be asking yourselves this question.
The current schedule reads as follows:
Thursday: Blind Guardian, Doro, Saltatio Mortis, Dirkschneider, Hämatom ("Berlin" show), Skyline, Ednseeker, Burning Witches
Friday: Nightwish, Hämatom ("Die Liebe Ist tot" show), Kärbholz, Rage, Ghaals Wyrd, Nasty, Slope
Saturday: Powerwolf, Beyond The Black, Jinjer, Imminence.
More acts to follow!
So what do we need to be aware of because of the pandemic?
Please understand that it is not possible to make a more detailed statement at this point in time. The dynamic course of the pandemic makes it impossible to predict today what the situation will be in September. For this reason, all measures cannot yet be finally confirmed.
We currently assume that participants must be either tested, vaccinated or recovered on arrival. This will require a status check combined with ticket personalisation.
We are also optimistic that the mask requirement will be lifted for most areas (if not all). The consumption of alcohol will also be permitted - according to the current status - without restrictions on the event area and campsite.
How do I get a ticket?
Basically, at Bullhead City we differ between 3-day tickets and day tickets. We are planning with an initial capacity of 20,000 people per day.
If the pandemic continues to progress so favourably, we would like to put more tickets on sale. There are no restrictions on our part for visitors from abroad, but of course the entry restrictions and warnings in place for Germany in September must be observed.
Our ticket presale will start on Friday, 09.07.2021 at 10:00 on Ticketcenter.Wacken.com - first exclusively for all W:O:A 2022 ticket holders. We have reserved 5,000 tickets for this occasion.
Once these 5,000 tickets are sold (but no later than 15:00 on the same day), the remaining tickets will go on sale at Metaltix.com.
The price of a 3-day ticket for Bullhead City is 196,00€.
In addition, there is a service fee for the implementation of the festival, amounting to 54,00€, which is used for the development of camping and parking areas, anti-corona and hygiene measures and other cost items.
Camping is possible from Wednesday at no additional cost.
One day ticket for Thursday, Friday or Saturday costs 90,00€.
Anyone purchasing a day ticket can buy an additional parking ticket for €10.00 per vehicle to use one of the day parking spaces on site.
All those who want to camp on site can book the following additional options:
Parcel with electricity, 6 x 8 metres, for a maximum of 5 people, for 99.99€.
Parcel with electricity and one own mobile toilet, 6 x 8 metres, for a maximum of 5 persons, for 240,00€.
Large parcel with electricity and two own mobile toiletes, 12 x 8 metres, for a maximum of 10 persons, for 420,00€.
These prices are per parcel, not per person! Please also note that the maximum number of persons per plot must be strictly adhered to!
These mobile toilets will not be cleaned in between during the event. The booking is made via a seating plan, so you can combine several parcels of the same type.
Further Glamping offers will follow in the coming weeks, these are for example already pitched renting tents of our longtime partners Mein Zelt Steht Schon and Zeltheld but also solid accommodations like huts in an exclusive location.
See you in Bullhead City - Metal is coming home!