New bands (not only) for the beergarden!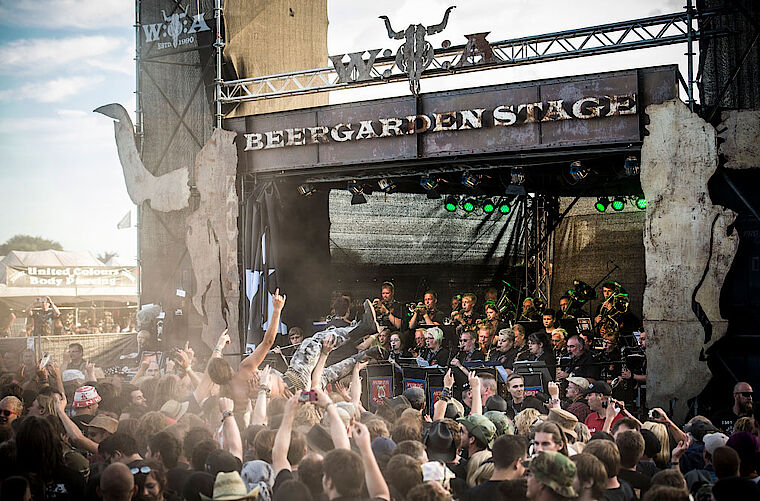 Most of today's bandwave is about our Beergarden Stage - as many as 15 bands or program items are added to the lineup today. Enjoy the program for all friends of the cold hop smoothie!
Heathen Apostles are the first name and they bring to you some dark country with gothic elements. Country elements are also part of the music from Jack Broadbent, but the main thing here is his work at the guitar. Do you want some vodka in addition to all the beer? Try Ivan Ivanovich & The Kreml Krauts as your soundtrack! Or are you more into accordions and leather pants? Da Rocka & Da Waitler are coming to town too!
Extrabreit adds some German punk and Das Pack combines rock and fun. Rose Bogey's will deliver some Blues Rock Folk stuff and Acoustic Steel is, as the name suggests, about Metal and Hard Rock without electricity. We also can announce the return of the local heroes from Asrock!
If you speak about W:O:A pioneers, many people will name acts like Saxon or Blind Guardian. But The Waltons are part of this group too! The Cow Punk band rocked the festival back in 1992 and 1994 and it seems that all the "it used to be only about metal" moaners don't know about this. Get your facts straight! Another old companion is the one and only Mambo Kurt and of course we can't miss the W:O:A Firefighters in this list!
That's not all! We can also announce the return of Vegan Black Metal Chef! The grand master of satanic and vegan cooking will prepare some delicious and blasphemous masses. Another dark highlight will be the Witch Taint show. This isn't a Black Metal band, but a comedy program about a fictitious Black Metal band. Last but absolutely not least: The Wacken Slam Battle returns once again!
W:O:A 2018 – 02.08. - 04.08.
With: Judas Priest, Nightwish, In Flames, Ghost, Helloween - Pumpkins United, Danzig, Running Wild, Behemoth, Dimmu Borgir, Arch Enemy, Children Of Bodom, In Extremo, Hatebreed, Gojira, Steel Panther, Doro, Alestorm, Dirkschneider, Samael, Cannibal Corpse, Schandmaul, Destruction, Clawfinger, Korpiklaani, Eskimo Callboy, Die Apokalyptischen Reiter, Converge, Riot V, Epica, Tremonti, Wintersun, Oomph!, Amorphis, Vince Neil and many more bands.