Important
This article is VERY old (older than 2 years)!
Onslaught, Suidakra and Debauchery on "Screaming For Violence" Tour in Europe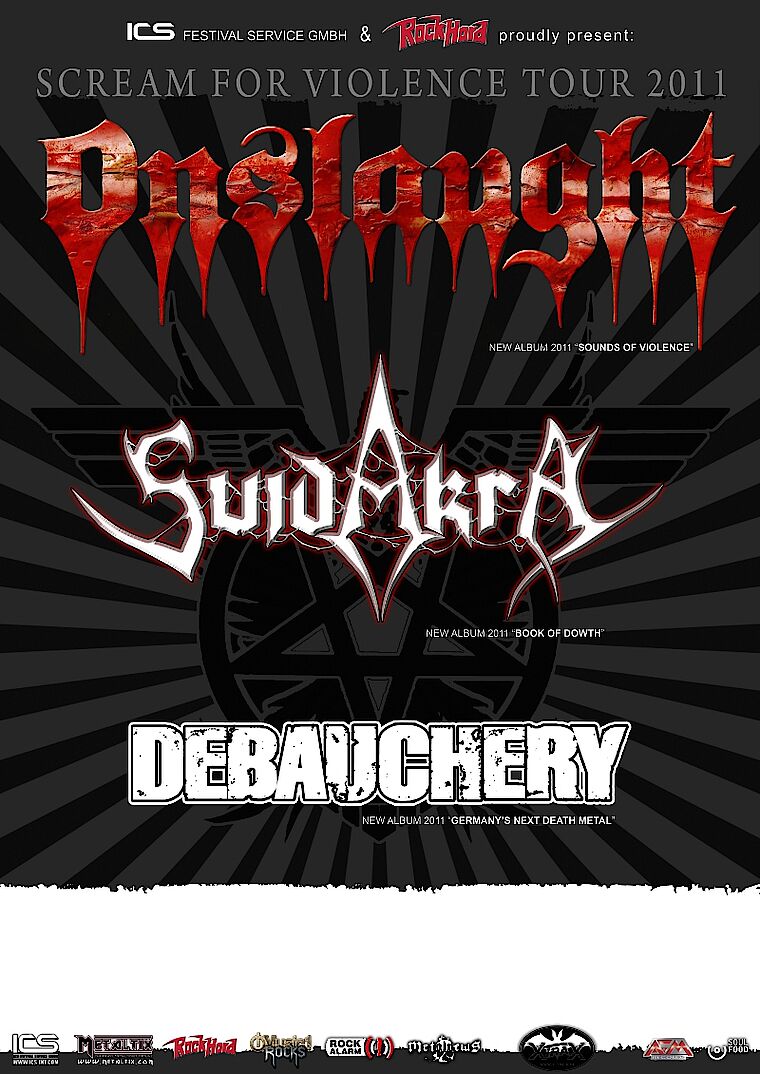 In the End of March three bands will hit the road to come through Europe with their best of Metal.
Onslaught, Suidakra and Debauchery are the Thrash and Metal trio which comes together.
Formed as a Punk band in the early eighties Onslaught gradually transforms into Britain´s finest Thrash Metal band.
In 2010 a new chapter is about to come, the band signs with AFM records from Germany to release their 5th studio album "Sounds Of Violence".
Nige Rockett comments:"It´s extremely violent and back to our roots in many ways, but also sounding very contemporary in its entirety".
For more info and a taste of their new album have a look at:
As support Suidakra and Debauchery consort with Onslaught!
The former became successful not only in Germany but also in international music business.
Beside numerous shows in Europe, USA, North America and Russia Suidakra also played some shows in China in 2009.
On the 25th of March "Book Of Dowth" will be published.
Watch the brand new video "Dowth 2059" here:
But also the German Death Metal Band Debauchery features some fruitful years since founding in 2002.
They already toured with names like Six Feet Under, Dismember and Destruction through Europe.
Debauchery will release their Album "Germany´s Next Death Metal" still in this month.
For more info about Debauchery have a look at:
3 great bands with 3 new albums will make this show to a grandiose metal experience.
Don´t miss it when the Thrash and Death Metal trio calls on you to attend their "Scream Of Violence" Tour 2011!
Tourdates:
Onslaught (Suidakra, Debauchery)
31.03.2011 GER Hamburg Markthalle
01.04.2011 DEN Arhus Metal Royale
02.04.2011 SWE Göteborg Parken
03.04.2011 SWE Stockholm Klubben
06.04.2011 FIN Turku Klubi
07.04.2011 FIN Helsinki Dom
08.04.2011 FIN Salo Monkey
09.04.2011 LIT Tallin Club Tapper
10.04.2011 LAT Riga Melna Piektdiena
11.04.2011 LTU Vilnius Club New York
13.04.2011 POL Katowice Megaclub
14.04.2011 CZE Prag Exit
15.04.2011 AUT Wien Escape Metalcorner
16.04.2011 GER München Backstage
17.04.2011 SWI Pratteln Z7
19.04.2011 GER Darmstadt Steinbruch-Theater
20.04.2011 GER Osnabrück Bastard Club
21.04.2011 GER Essen Turock
22.04.2011 BEL Vosselar Biebob
For tickets have a look at: