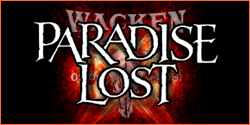 Paradise Lost – first Wacken appearance at W:O:A 2012
We are very excited to be able to announce Paradise Lost for Wacken Open Air. The festival exists since 1990 when Paradise Lost also released their first album "Lost Paradise". Now, 22 years later, it comes together. The legends of Doom/Gothic Metal will play the world´s biggest Heavy Metal festival.
Since their conception in 1988, PARADISE LOST have not only founded the genre gothic metal with 1991's "Gothic", but also diligently defined and daringly transcended it. From the crawling, harrowing doom of their debut "Lost Paradise" (1990) to the electronic sounds of "One Second" (1997) over to the dark rocking punch of "Paradise Lost" (2005), the band's entire career has been accompanied by the desire to evolve and stay ahead of musical trends and fashions.
At W:O:A 2012, Paradise Lost will perform a "Best Of…" Set out of their 12 studio albums and 23 years of band history. Be prepared for this dark, doom and spherical experience.
More info about Paradise Lost can be found at our bands section.
Tickets for W:O:A 2012 are exclusively available at www.metaltix.com.