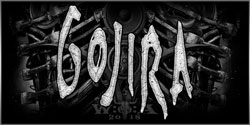 Progressive Death in perfection – Gojira are coming to W:O:A 2018!
Stop! Even if you normally don't like Progressive Death Metal bands, you should take a closer look at today's announcement: These musicians can easily attract metalheads from all sub-genres out there!
Gojira will return to Wacken!
The French band Gojira must undoubtedly be on every list of these days most exciting metal bands. With each new album, they easily manage to break down the boundaries of the genres. Without ever sounding arbitrary and interchangeable or sacrificing their own trademarks!
Whether you call it Technical Death Metal, Progressive Death Metal, Progressive Groove or simply Metal, one thing is clear for sure: Gojira always deliver high class!
The music is hard, but not for the sake of hardness - there is also room for great melodies and clear vocals. And while the music is very progressive and playful, it does not follow the old "the longer, the more progressive" wisdom. The current album Magma does only need about 40 minutes of playing time to present the 10 songs. Almost short for a band with the label progressive.
Fans of the first hour might not always like the development of the band, but open-minded Metalheads will find a unique package of Death, Thrash, Groove and Progressive here.
And of course we need to talk about the band's commitment - the musicians are working together with our friends from Sea Shepherd, who will be at W:O:A too!
W:O:A 2018 – 02.08. - 04.08.
With: Judas Priest, Nightwish, In Flames, Ghost, Helloween - Pumpkins United, Running Wild, Behemoth, Dimmu Borgir, Arch Enemy, Children Of Bodom, In Extremo, Hatebreed, Gojira, Steel Panther, Doro, Dirkschneider, Samael, Cannibal Corpse, Schandmaul, Destruction, Clawfinger, Korpiklaani, Eskimo Callboy, Die Apokalyptischen Reiter, Converge, Riot V, Epica, Tremonti, Wintersun, Oomph!, Amorphis, Vince Neil and many more acts.