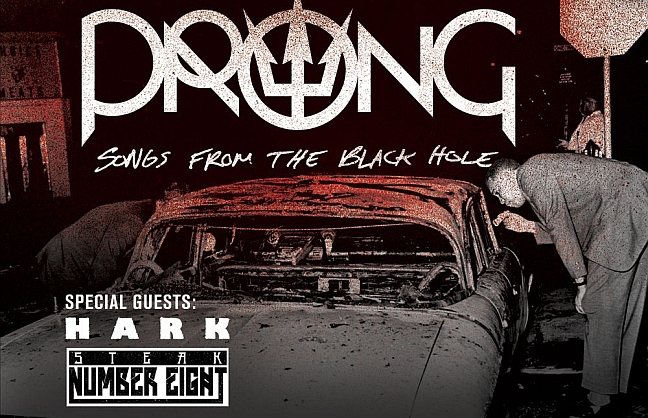 Prong - European Tour & big raffle on Metaltix
On Friday, Prong kick off their "Songs From The Black Hole Tour "with a Show in Groningen, Netherlands. From April 29 to May 3, the trio infernale will hit Germany with their huge Groove Metal.
To get you prepped for the concerts, we raffle five CD bundles, each containing the albums "Carved In Stone", "Ruining Lives" and their latest offering, the cover album "Songs From The Black Hole". On it, you get to hear Prong's unique versions of songs like The Sisters Of Mercy's "Vision Thing", "Banned In D.C." by the Bad Brains and Neil Young's "Cortze The Killer". On top, we add a 7", either featuring "Remove, Separate Self" or "Turnover".
If you want to participate in the raffle, all you have to do is to write an email with the reference "Prong" to verlosung@metaltix.com until Thursday, April 16. Please provide us with your postal address, so we know where to ship your prize, should you win. Of course, you can also tell us, which vinyl single you need to complete your collection.
Should you furthermore need your tickets for Prong live, head over to www.metaltix.com and get them now! For shows outside of Germany, please visit www.prongmusic.com.
Prong - Songs From The Black Hole Tour
17.04. Groningen (NL), Vera
18.04. Sittard (NL), Volt
19.04. Kortrijk (BE), De Kreun
21.04. Birmingham (GB), 02 Academy 2
22.04. Liverpool (GB), 02 Academy 2
23.04. London (GB), 02 Academy Islington
24.04. Bristol (GB), 02 Academy
25.04. Savigny le Temple (FR), L'Empreinte
26.04. Pratteln (CH), Z7
27.04. Graz (AT), PPC
28.04. Vienna (AT), Szene
29.04. Munich, Feierwerk
30.04. Berlin, C-Club
01.05. Cologne, Underground
02.05. Essen, Turock
03.05. Hamburg, Knust