Important
This article is VERY old (older than 2 years)!
Reload Festival adds seven bands to billing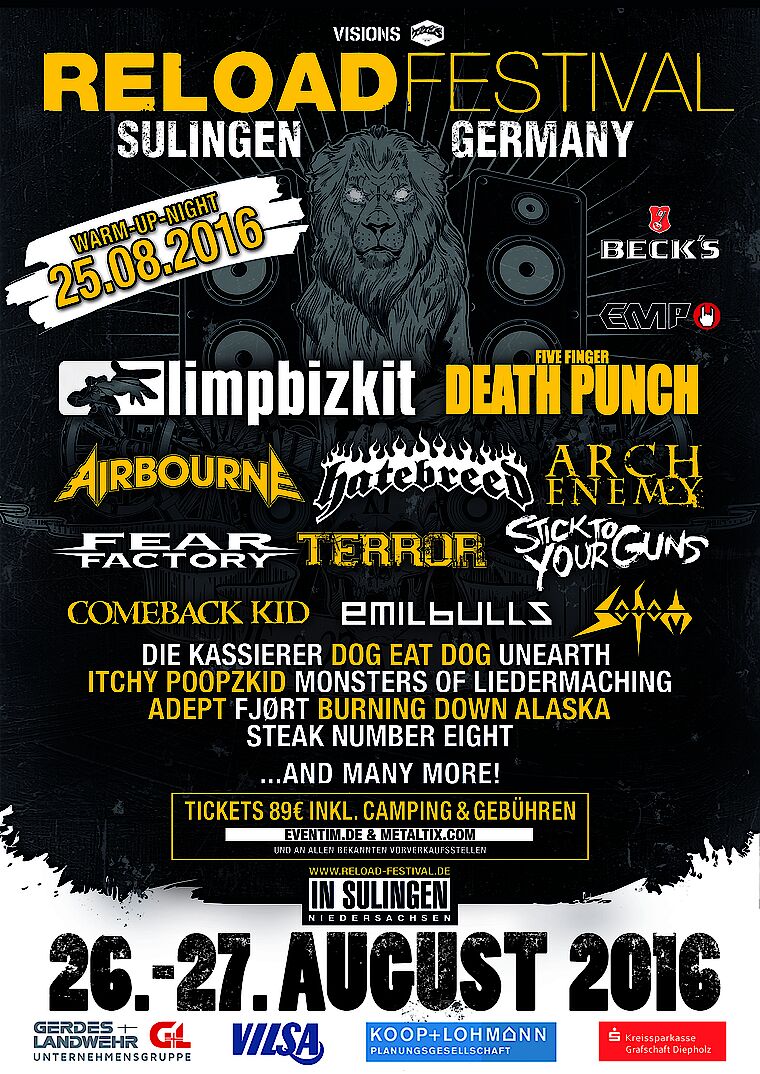 Reload Festival has just announced seven new bands: Five Finger Death Punch, Comeback Kid, Dog Eat Dog, Monsters Of Liedermaching, Fjørt, Adept and Burning Down Alaska.
Says Managing Director André Jürgens: "Our festival is especially known for its cosy atmosphere. Th possibility to offer our fans a wide array from internationals superstars like Five Finger Death Punch and German newcomers like Fjørt and Burning Down Alaska alike in this setting, is something, we take pride in."
The festival is taking place from August 26th to 27th in Sulingen, Lower-Saxony, with tickets being available for € 89 (incl. fees and camping at the car) from Metaltix.com!
Reload Festival 2016
with: Limp Bizkit, Five Finger Death Punch, Airbourne, Hatebreed, Arch Enemy, Fear Factory, Terror, Stick To Your Guns, Comeback Kid, Emil Bulls, Sodom, Die Kassierer, Dog Eat Dog, Itchy Poopzkid, Unearth, Monsters Of Liedermaching, Fjørt, Adept, Burning Down Alaska, Steak Number Eight and more!
26. - 27.08. Sulingen