SOULLESS: 'Serpent Reaper' Video Released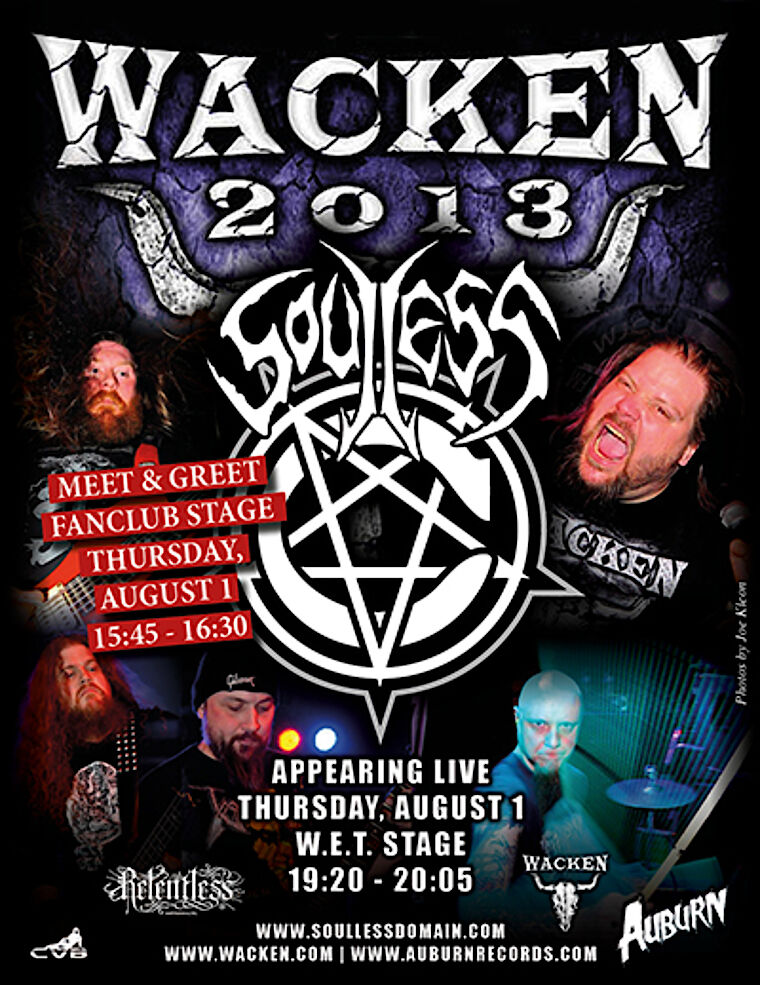 "Serpent Reaper", the new video from Cleveland, Ohio-based thrashers SOULLESS, can be seen below. The song comes off the band's fourth full-length album, "In Death's Grip", which was released on April 23 via Auburn Records. The video was directed by Kristoff Bates for Black Arts Media. It was filmed on location in Cleveland at the House Of Wills, an abandoned former funeral home built in the early 1900's and rumored to be a place of very active paranormal activity.
<iframe width="400" height="225" src="//www.youtube.com/embed/0svwXB70hSY" frameborder="0" allowfullscreen></iframe>
"You have to see this place to believe it", says Auburn Records president Bill Peters. "It's a massive structure that was originally built in 1900 as a German opera house. 35 rooms in an abandoned funeral home with multiple basements, attics, hidden passageways, rotting floors, unexplained cold temperatures, no water or electricity, empty caskets and a crematorium. It looks as if the funeral home owners literally left in the middle of the night some 20 years ago. Many of their things are still there. This is officially the creepiest and craziest place I have ever been to in my life. The real deal in horror. Words cannot even begin to describe. Being locked up in that place for two full nights was a mind altering experience - let me tell you! The smell of evil is everywhere. The perfect location for a SOULLESS video shoot."
Asked his opinion about the strongest material on "In Death's Grip", vocalist Jim Lippuci doesn't hesitate, "'Serpent Reaper' is one of my favorites. I utilized some lyrics I had kicking around, a ghost story. The name actually comes from a nickname that a friend of our guitarist Wayne (Richards) gave me. I have no idea what it means, but thought it sounded cool as Hell, so I incorporated it into the song. That one has all the stuff we like about SOULLESS. It has melody, slower parts, faster stuff. Most people agree, that's one of the stronger songs on the album."
"In Death's Grip" was recorded by SOULLESS bassist David Johnson at Bad Back Studios in Cleveland, Ohio. The cover illustration was done by Matt Cavotta. Jim Lippucci handled the design and layout.
"In Death's Grip" track listing:
01. Vindictae Dei (Intro)
02. The Crippler
03. As Darkness Dawns
04. World Of Ruin
05. Bleeding Darkness
06. Serpent Reaper
07. Down Hell's Path
08. The Price Of Life
09. Bury The Cross
10. Straight To Hell
11. Agonies
12. Take Command (Bonus Track)
The album is distributed in North America by CD Baby, Century Media, The End, Sentinel Steel, Amazon and iTunes.
"Younger kids might call us death metal," adds Lippucci, "but I'd say we're sort of German thrash meets IRON MAIDEN. It's not brutal, in the death metal sense, and there's no breakdowns. We grew up on the original thrash movement. Back in the day, you didn't have the delineation of the music. POSSESSED, VENOM, EXODUS, they were all just called 'thrash.' We try to have a couple songs on each record that also have some doomy parts. We love TROUBLE and try to pay homage to our predecessors."
SOULLESS will be appearing at this year's sold out Wacken Open Air festival, set to take place August 1-3 in Wacken, Germany. This will be SOULLESS' first time performing live overseas. It has been their dream to play in Europe one day since forming the band in 1997.
"Germany has a reputation for fine metal and even finer ales, lagers and dunkels", says Lippucci. "These are the things we find best in life. We are incredibly excited to have the opportunity to take our little freak show abroad, not only to sample the noble culture of this amazing country, but also to show them that our little corner of the world can bring the steel as well. Teutonic Thrash über alles!"