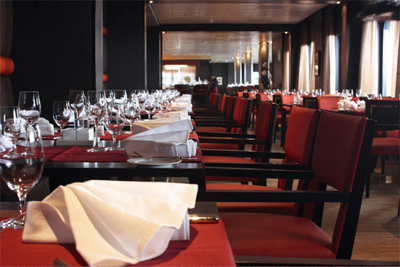 Special Fan Package with Meet & Greet / onshore concert in Southampton: Saxon plays Denim & Leather album
Special Fan Package for suite and junior suite guests
The Full Metal Cruise in May, the sold out Wacken Open Air in August - this is how the festival schedule could look like for heavy metal fans who spontaneously book a suite or junior suite for the Full Metal Cruise. Starting from now, everybody booking a cabin of these two categories will get a special fan package which will make every metal heart beats faster. It not only includes a ticket for the already sold out Wacken Open Air but also a Meet&Greet with Doro, Betontod and drum legend Jörg Michael on the Full Metal Cruise. Furthermore included is a VIP bridge tour with these artists, an invitation to the Steakhouse Surf&Turf for a three course menu in a private setting with some metal artists, as well as a backstage tour behind the scenes of the Full Metal Cruise stages. The package also includes a VIP pass for the land concert in Southhampton consisting of a backstage tour and a Meet & Greet with the band.
Third land concert confirmed: Saxon play their "Denim & Leather" album
Two months before the start of the Full Metal Cruise the line-up is nearly complete.
On the first shore leave on May 7th, the fans will experience a true metal masterpiece: Saxon will play a special club show in Southampton at which they will present their whole DENIM & LEATHER album.
Full Metal Cruise land concert: SAXON playing Denim & Leather
7. Mai, Southampton, Mo'Club
Support: Primitai & Dendera
DENIM & LEATHER was published in 1981 and with songs like 'And The Band Played On' und 'Princess Of The Night' formed the cornerstone of the fast spreading New Wave of British Heavy Metal. This influence on the metal world is still present today, no wonder that the album is part of any self-respecting Metalhead's collection.
Saxon will be supported by the local bands Primitai and Dendera. These two high flyers took classical metal as shaped by Saxon as their blueprint and augmented it with influences of thrash metal and modern sounds.
The location of this show can be reached by foot from the Mein Schiff 1. The concert starts at 5.30pm. Because of the limited capacity of the show, the presale will be at first exclusively for guests of the Full Metal Cruise (www.tuicruises.com/meinereise). The cost of the tickets will be 30€ plus a presale fee of 3,50€. The public presale will start at a later point in time.