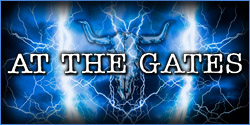 St. Nicholas' Day – W:O:A-Style!
Today's St. Nicholas' Day offers some nice attractions for Metalheads in Northern Germany but also the band announcements are special today. We add a melodic death and a folk metal legend to our lineup!
At The Gates
Many people thought the show at the W:O:A 2008 was the last chance to see ´At The Gates´ live on stage. But with ´At War With Reality´ they published their first studio album since 1995 this year and we are very happy to announce that the Melodic Death Metal heroes will be back on stage at the Wacken Open Air 2015.
Subway to Sally
Welcome back in Wacken! The Folk band is one of the most productive Folk Metal bands if their niche and will present their 12 studio album at Wacken 2015!
And here are the x-mas winners from the 5th of december 2014:
Heike O - Ibbenbüren
Manuel S - Karlsruhe
Angela H - Marburg
Andreas W - Marksuhl
Henner F - Freudenberg
All winners were already informed by mail!
Tomorrow we will announce the next bands and xmas winners!
If you have not participated yet than take your chance now and visit www.metaltix.com. More bands and amzing prizes are waiting behind every door!