Important
This article is VERY old (older than 2 years)!
Survey regarding personalized tickets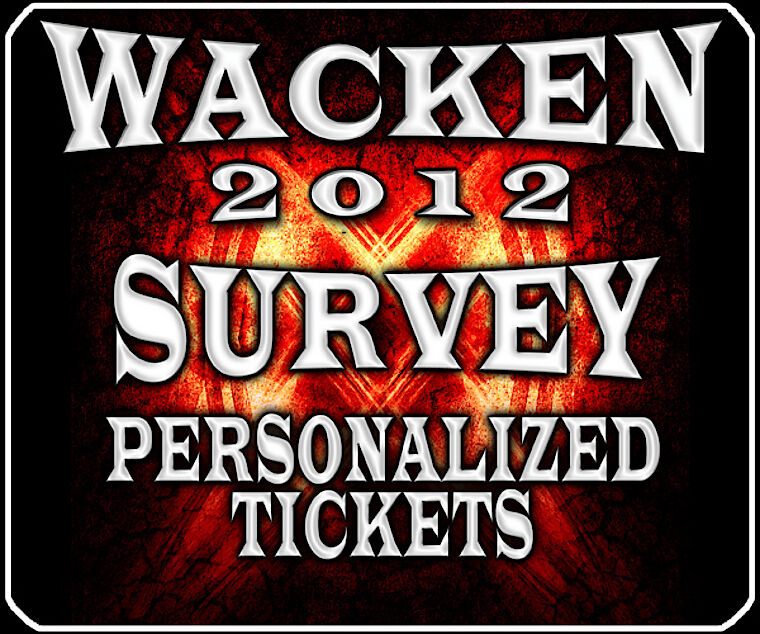 Dear Metalheadz,
The rip-off with the resale of tickets on the black market is getting worse and worse. Increasingly tickets are being bought by black marketeers only with the purpose of selling them on to Metalheadz for outrageous prices in order to cash on the difference as own profit. Despite all efforts of protecting tickets against counterfeiting – more and more counterfeit tickets enter circulation. We want to do something against this rip-off. An effective method against black-market trade and ticket counterfeiting is a personalisation of tickets.
We would like to know the opinion of Metalheadz to this personalisation of Wacken tickets. We would like to ask you to carefully read the following information and take part in our survey. This is all about protecting you, NOT about gaining advantage for us. These innovations do mean significant costs for us, which we are pleased to pay because we do not want to accept the rip-off on the black market anymore.
We are going to present you some legal bases and the current situation and we hope that you will go the planned course with us together. For this is the recent survey. For all of you who would like to read the information without loads of background information, we summarised the information here in short form. All of you interested in details please read the detailed description in italics below the link to the survey:
- as long as tickets are not personalised we cannot do a lot against black-market trading
- only a personalisation of tickets gives us the possibility to take effective steps against black-market trading, because
o personalised tickets are forgery-proof
o lost or stolen personalised tickets can be blocked and replaced
The resale of personalised tickets can legally be prevented. If we are going to only give out personalised tickets in the future, and need to collect personal data for that purpose, we are aware the specific responsibility when handling these data. We will guarantee that your data is being protected against any external access and will not be used for any other purpose than the personalisation of your ticket.
--------->TO THE SURVEY<---------
DEADLINE IS THE 31ST OF MAY 2012!
Detailed description:
The Wacken ticket in its present form is a so called "bearer paper", meaning can roughly be compared with a banknote. The offered services have to be fulfilled when showing a valid ticket, no matter which person is behind it. Anybody in possession of a valid ticket at the entrance is generally getting in and onto the festival ground.
We already prohibited the commercial resale of tickets in our general terms and conditions and therewith can proceed against the resale of tickets, but only if it is proven that this person has really bought the ticket from us, because our general terms and conditions do of course not apply to everybody but only specifically between us and our clients, the ticket buyers. In case of a legal dispute we would have the burden of proof, and proof is almost impossible. Therefore we can try (what we already did in the past) to take legal actions against these black marketeers but the chances of success are very limited. Professional resale-platforms are increasingly only appear as mediators between buyers and resellers of tickets. The mediation of this is generally permitted. Also, many online sales platforms do have their registered office abroad and it is very hard to get to the instigators.
This situation is being exploited – in particular stooges are being recruited who then buy tickets in order to immediately hand them over to the instigators. For us stooges are very difficult to distinguish from honest buyers.
A way out is the personalised ticket. This means that every ticket is being assigned to exactly ONE person. The purchase of a personalised ticket from non-authorised sellers (viagogo, ebay etc.) means that this ticket is valueless for the buyers because the personalisation cannot be transferred. Therefore any kind of resale of tickets is pointless.
Of course we are going to offer possibilities for Metalheadz who cannot come to Wacken for important reasons after buying a ticket, to return the ticket for a refund of the purchasing price, or to officially transfer it onto other Metalheadz. De facto this would mean that behind every barcode on the ticket, encrypted by an algorithm, your data would be saved and being read (name, address, ID number) when scanning the tickets through our system (and ONLY AND EXCLUSIVELY through our system). Thereby in Wacken it can be checked by the scanning if the person is the correspondingly owner of the ticket.
The personalisation would (to put it short) in technical sense take place that you, after buying the ticket from Metaltix, would receive a link where you can register the respective data of the owner for the bought ticket. When this procedure is finished tickets can be sent and your stated data is linked to the individual barcode of every ticket.
We are convinced that the personalisation is the best and only implementable way that can be taken. Therefore again we would like to ask you to take part in the survey and put your opinion at our disposal. Because in the end this is all about you!!!
BTW: the popular hard-ticket would be maintained with this personalisation procedure, or at least be made available as a souvenir.