Thank you for W:O:A 2017!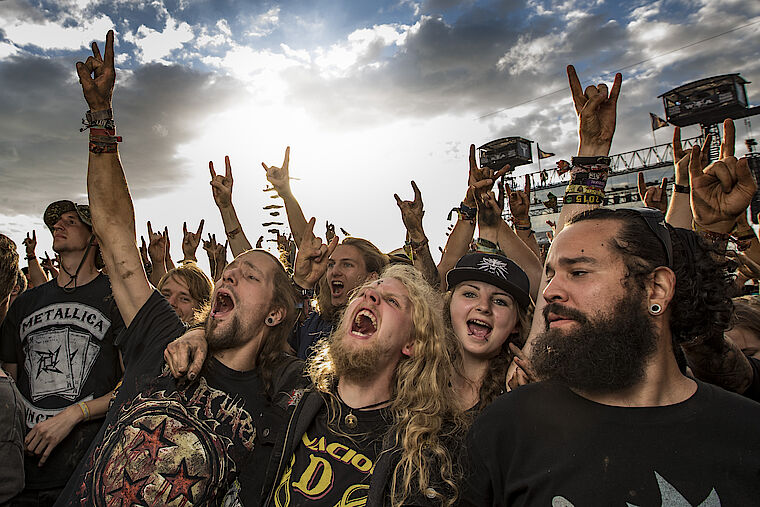 Metalheads!
We are looking back at gleeful days with guests and bands from over 80 countries - THANX FOR YOUR SUPPORT, METALHEADS!
Without you, this festival would not have been what it always has been: the world's best, biggest and most peaceful metal party! By fans for fans!
The weather wasn't thoroughly on our side, but that did not hinder your arrival and in the end we got to enjoy some sunny hours, too. The actions to prevent extreme mud pits (flattening of the terrain, the new, more powerful drainage, more robust vegetation, driveways) did their part and helped us in dealing with the partly severe rainfalls before and during the festival. Our crew of all trades gave their very best to make sure your arrival is as enjoyable as possible, and for you to have a great party.
Since we got rid of the fee for early arrivals, our "Full Metal Village" was already nicely crowded on Monday and turned into a great meeting place for thousands of metal fans. The place to be: Our guest-house Zum Wackinger where Maschine hosted his Late Night Show on Monday and Thursday.
Until Wednesday most of the 75.000 paying visitors had arrived in Wacken and had the chance to witness some talented newcomers at our Metal Battle (congratulations to the winning band, Jet Jaguar from Mexico. With about 9.500 additional participants like artists, contractors, our second to none crew of all crafts, journalists, security, paramedics, representatives of authorities and our great neighbours, our little village turned into a lively town.
Highlights of 2017
The Night To Remember on Thursday truly deserved this name: Accepted stayed true to their promise of delivering a unique performances featuring classics, live premieres of new songs and symphonical excellence. Denmark's superstars Volbeat followed with a huge performance for metalheads and rockers alike. At the same time, our newly introduced Night To Remember turned Bullhead City Circus into a bloody great place to be for fans of extreme metal bands like Nile, Napalm Death, Mayhem and many more.
The following festival we were witnesses to further spectacular highlights - be it on our newly named main stages Faster, Harder and Louder, as well as in the Bullhead City Circus, in the Wackinger Village, in the Beergarden, in the Wacken Foundation Camp and in all other areas.
All bands gave their very best, from Amon Amarth, Avantasia, Alice Cooper (who kindly donated € 10.000 to the Wacken Foundation) to The Dillinger Escape Plan, Architects and Saltatio Mortis.
Other exciting performances: cult classic rock by bands like Status Quo and Europe, moshpits ignited by Kreator and Heaven Shall Burn and many, many more. But most importantly: Thanks to you this festival once again was a celebration of metal and its community! This was most evident on Saturday evening as the whole infield sang Motörhead's rendition of David Bowie's "Heroes", honoring Lemmy and creating our W:O:A 2018 anthem.
What was new?
In addition to the mentioned measures and the new names for the stages, we had more speakers installed in order to grant you an even richer sound. Our beer pipeline met the expectations and kept the liquid gold flowing. Another innovation? The tent stage aptly named Welcome To The Jungle with a varied programme featuring metal yoga, poetry slams or wrestling. Our test run for Cashless Payment as an optional method of payment in the infield has been met with great interest and many of you helped us in improving our experience with this area - another reason to say thank you! The Rainbow Bar honoring Lemmy received an update. The live streams provided by Magenta Musik 360° and 3sat brought Wacken Open Air to fans in over 150 countries.
Important: As always, we are very much looking forward to your comments and suggestions, be it in our forum, on Facebook or the online survey (in preparation). We will review them all and take everything into consideration to improve the Wacken Open Air further. A lot of little things can make a festival better. Thank you!
Last but not least we want to thank all the fine people of the villages Wacken, Gribbohm, Holstenniendorf, Besdorf, Bokelrehm, Bokhorst, Nienbüttel, Agethorst, Vaale and Nutteln, who have once again displayed their unique and heartwarming hospitality to all Metal fans as well as us, especially during the bad weather at the beginning of the week. They also readily took part in our campaign to let the W:O:A flags fly on all streets.
Recap and press reports about W:O:A 2017 will follow as well as pictures from our official festival photographers in our photo gallery.
We are looking forward to next year when we can proudly proclaim for the 29th time:
Faster - Harder - Louder >> See you in Wacken 2018 - rain or shine <<
THE FESTIVAL IS THE HEADLINER AND THE BANDS PAY THEIR BEST-OF SET
THE BANDS WERE GOOD BUT THE CREW & FANS WERE BILLIANT!
BLASTING THE NORHT IN AUGUST!
"THE ANSWER TO THE WORLD'S BULLSHIT IS NOT BEING FULL OF HATE, BUT BEING FULL OF LOVE, LIGHT, MUSIC - AND FULL OF BEER"
BRUCE DICKINSON, IRON MAIDEN, AUG 4TH 2016, TRUE METAL STAGE
Thanks for your support, Metalheads! In Metal we Trust!
Your W:O:A Team
Wacken Open Air 2017 - Outro & Festival Credits
<iframe width="600" height="315" src="https://www.youtube.com/embed/XUAvAXyTW-s" frameborder="0" allowfullscreen></iframe>