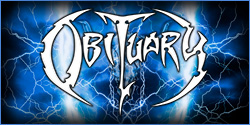 The bands behind the 22nd door - death metal and German rock!
Three more names for our lineup: Two more death metal bands and a pinch of German rock!
Obituary
One of the funamental acts of the death metal scene will return to Wacken for the third time: Obituary from Florida! The band is smashing the stages since 1985 and 9 studio albums have been released in this time.
Morgoth
Also the German death metal band Morgoth will be playing in Wacken next year. The band decided to part ways in 1998 but since 2011 they reunited and start making music again.
After they published a new single in 2014, the release date for their new album "Ungod" is planned for spring 2015.
Kärbholz
Metalheads who are interested in German rock can look forward to Kärbholz at the Wacken Open Air 2015. For more than 10 years Kärbholz is known for a great mixture of Rock, Punk and Indie. This year they will play for the second time at the W:O:A.
And here are the x-mas winners from the 21st of december 2014:
Britta P -Damendorf
Sören R - Raven
Julia Z - Windeck
Matthias S - Westvleteren (Belgium)
Brian V - Lockport (United States)
All winners were already informed by mail!
Tomorrow we will announce the next bands and xmas winners! If you haven´t participated yet than take you chance and visit www.metaltix.com