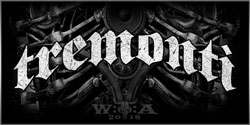 Tremonti honors W:O:A for the first time!
Today we can we can announce another musical highlight for the upcoming W:O:A: Tremonti! The American metal band combines influences from Thrash Metal, Hard Rock and some other styles. In short you could probably describe the whole thing as Modern Metal or Heavy Rock.
Head of the band is Mark Tremonti, who is already well known as guitarist of Creed and co-founder of Alter Bridge. With Tremonti, he can now follow his own musical visions. To do this proper, he isn't only playing the guitar but also took over the lead vocals.
The musicians have already recorded three studio albums together, a fourth one was just announced. We are looking forward to their debut in Wacken!
W:O:A 2018 – 02.08. - 04.08.
With: Judas Priest, Nightwish, In Flames, Ghost, Helloween - Pumpkins United, Running Wild, Behemoth, Dimmu Borgir, Arch Enemy, Children Of Bodom, In Extremo, Hatebreed, Clawfinger, Steel Panther, Doro, Dirkschneider, Samael, Cannibal Corpse, Schandmaul, Korpiklaani, Eskimo Callboy, Die Apokalyptischen Reiter, Converge, Riot V, Epica, Tremonti, Wintersun, Oomph!, Amorphis, Vince Neil and many more acts.
<iframe src="https://open.spotify.com/embed/artist/44tQC1PjxXIpEgW0i8uN00" width="100%" height="380" frameborder="0" allowtransparency="true"></iframe>