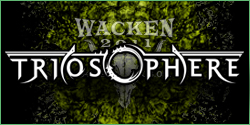 Triosphere, Shraphead & Stormzone at Wacken 2011
Today we have 3 new bands for you.
We start with the norwegian progressiv metal heads of Triosphere with female singer Ida Haukland.
The second band also comes from Norway and is dealt as one of the Thrash metal newcomers of the year - Shraphead! The band will also release their first full lenght album in this year!
The third band, called Stormzone, is a real delicassy for fans of classic rock und power metal.
More info under the following link: