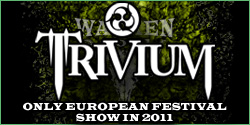 In 2005 the success story of US- band Trivium starts fife years after founding with the release of their second album " Ascendancy".
With 4 albums and a new single, which was released this year, the band will play at Wacken for the first time.
At Wacken Open Air 2011 Trivium will play their only european festival show 2011!!
See them live and check out what this band is all about – US-Thrash Metal at its best!
More at Billing/Bands