Wacken Foundation Auction - Lemmy on Canvas - Place your bid until Sunday August 17th, 2014 - 06.00 PM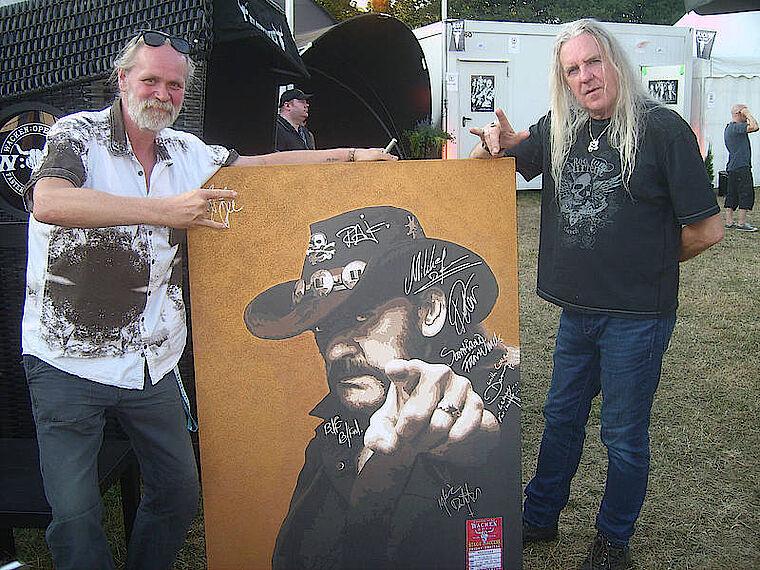 Don not forget! Until Sunday August 17th, 2014 at 06.00 PM you can place your bid for the artwork "Lemmy on Canvas" by Andreas Ole Ohlendorff.
It is a fine art print on canvas (100cm x 140 cm) and has been reworked by Ohlendorff with structure paste, collage and gold bronze. Now it is being auctioned in favour of the Wacken Foundation. The income will benefit young metal and hard rock bands.
The artwork has been signed by
• Mayhemic Destructor and Cruor from "Endstille"
• Pete Sage und Björn Both from "Santiano"
• Buzz Dee und Rajko Gohlke from"Knorkator"
• Mikkey Dee from "Motörhead"
• Biff Byford from "Saxon" and
• Doro Pesch
The auction will remain online on eBay until Sunday, August 17th 2014.
Follow the link and place your bid for a good cause: http://cgi.ebay.de/ws/eBayISAPI.dll?ViewItem&item=281406451421
More about the Wacken Foundation at:
http://www.wacken-foundation.com
https://www.facebook.com/wackenfoundation