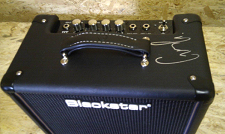 Wacken Foundation - Auction of Gus G.-Amplifier
Don't miss our deadline this Sunday, 7pm CET.
The Wacken Foundation will sell a real beauty through eBay:
Guitar hero Gus G., right hand of mighty Ozzy Osbourne, signed his Blackstar-Combo-Amp HT1 and Wacken Foundation will sell it by auction.
The benefit out of it will be used to support talented and ambitioned bands and artists.
The auction can be found under the following LINK
More information about the Foundation can be found at:
http://www.wacken-foundation.com