Wacken Foundation: Auction of signed ESP Gus 600 NT guitar by Ozzy guitarist Gus G.!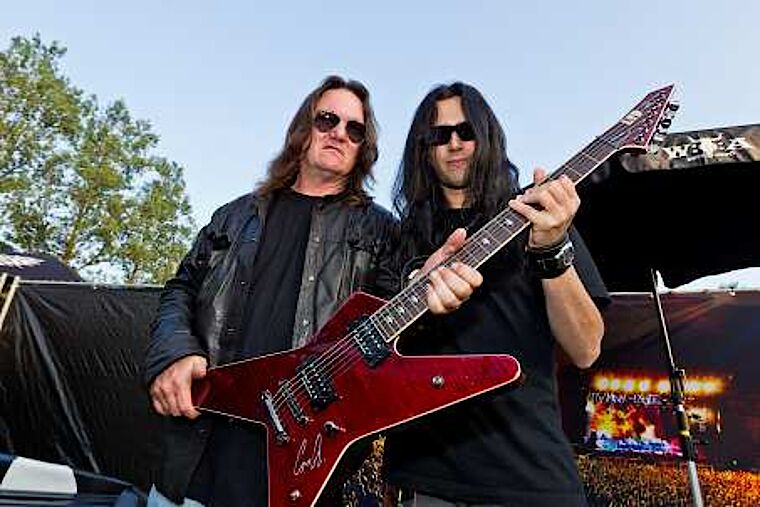 At this year's Wacken Open Air, guitar hero Gus G. - sidekick of the mighty Ozzy Osbourne - signed a beautiful ESP guitar for the Wacken Foundation.
On the eve of Gus' own band Firewind's tour in September, the guitar will be sold at an auction on eBay: The auction can be found here.
The guitar comes with a nice Gator Case, it's value even without Gus' personal signature is over 1.000 Euros. All proceeds will be used to support talented bands and artists at the beginning of their careers.
Auction starts Wednesday (Sept, 7th) at 7pm and ends Sunday (Sept, 18th) at 7pm.
GUS G on TOUR WITH FIREWIND
Sep 09 Talking Heads Southampton, United Kingdom
Sep 10 Manchester Moho Live Manchester, United Kingdom
Sep 11 Cathouse Glasgow, United Kingdom
Sep 12 Sub89, Friar Street, Reading Reading, United Kingdom
Sep 14 Boerderij Zoetermeer, Netherlands
Sep 15 W2 Den Bosch, Netherlands
Sep 16 Rock Temple Kerkrade, Netherlands
Sep 17 Biebob Vosselaar, Belgium
Sep 18 Underground Cologne, Germany
Sep 19 Colos-Saal Aschaffenburg, Germany
Sep 20 Knust Hamburg, Germany
Sep 22 Szene Wien Bezirk Simmering, Austria
Sep 23 Revolver Club San Dona Di Piave, Italy
Sep 24 Borderline Pisa, Italy
Sep 26 Le Nouveau Casino Paris, France
Oct 09 the state theater St Petersburg, FL
Oct 10 Masquerade Atlanta, GA
Oct 11 Jaxx West Springfield, VA
Oct 12 Gramercy Theater New York, NY
Oct 13 Wally's Hampton, NH
Oct 14 Le Foufounes Electriques Montreal, Canada
Oct 15 Maverick's Ottawa, Canada
Oct 16 Peabody's Cleveland, OH
Oct 18 Mojoe's Joliet, IL
Oct 19 Station 4 St Paul, MN
Oct 20 Osborne Village Inn Winnipeg, Canada
Oct 21 Pawn Shop Edmonton, Canada
Oct 22 Sapphire Nightclub Kelowna, Canada Presale
Oct 23 Rickshaw Theater Vancouver, Canada
Oct 24 Studio Seven Seattle, WA
Oct 25 Hawthorne Theater Portland, OR
Oct 26 Slim's San Francisco, CA
Oct 27 Whisky A Go Go West Hollywood, CA