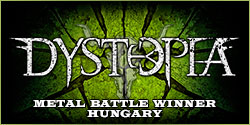 Wacken Metal Battle 2016 – Another six finalists confirmed
Here is the next band wave of the WOA Metal Battle finalists. Almost every participating country has chosen their winners. This time they come from Ungarn, Canada, Irland, Argentinia, the Caucausian Republics and Romania.
Let's start with Hungary! The foundation of Dystopia goes far back to the hot summer of 2003. Their music could be described as a sort of intensive yet very melodic metal with traces of their progressive metal, southern, or even arena rock influences.
The next one if Profaner from Canada: Fusing the speed and aggression of thrash metal with the hooks and power of melodic death metal, Profaner deliver a ferocious and entertaining live show.
ZhOra are from Irland and were formed in 2011. Sludgy, progressive metal is their way to go.
Lepergod from Argentinia was formed in March 2013 in Buenos Aires, Argentina. The young musicians came together to play an Obscure death metal with lyrics based on Satanism and Folk tales from Argentina.
Pyraweed from the Caucasian Republik was founded by Nijat Hasanzadeh in January 2015. At first the project was meant to be a one-man band, but later Ramin Sadigov (drummer) and Baboy Mirzayev (bass player) joined the band. The band plays quite rare for Caucasus region genre - Sludge/Stoner/Doom metal.
Last but not least Romania: Hteththemeth are very experimental and are not afraid to create their very own unique sound with elements of goth music, bossa nova and even blues music.
There are still some countries on our list. So keep an eye on it!
Congrats to all the winning bands. We will see you in Wacken!