Important
This article is VERY old (older than 2 years)!
Wacken Open Air live online: Wacken will start to rock on Wednesday evening!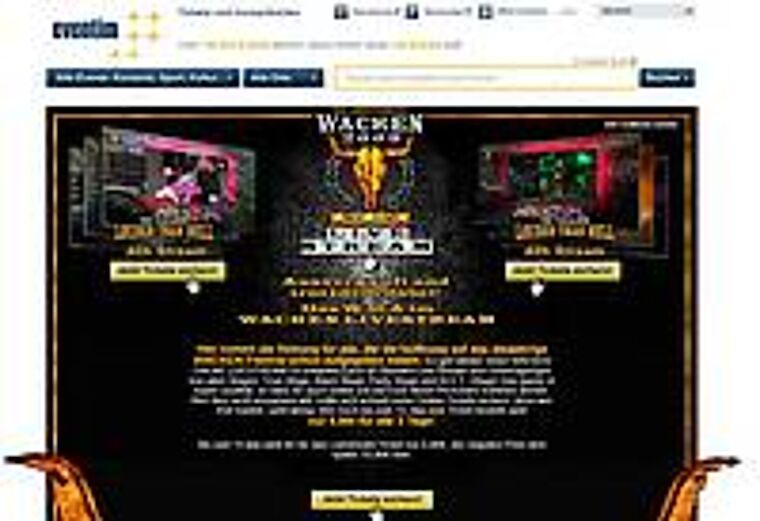 Tempodome.com, eventim.de and rockalarm.com present the official livestream of the Wacken Open Air - The warm up events on Wednesday will be streamed for free – Day access tickets are now available.
Wacken. The Wacken Livestream - presented by Tempodome, eventim.de and www.rockalarm.com – will starts 29th of July! Party on and heavy metal for everyone, who was not able to purchase a ticket for the legendary Wacken Open Air.
Amongst others, the following bands will be broadcast during the livestream: Lacuna Coil, Running Wild, Napalm Death, Doro, Gwar, Amon Amarth, Saxon, Volbeat, Coheed And Cambria, Bring Me The Horizon and Der W
. The up-to-date line up can be found at www.eventim.de/wacken
The 20th Wacken Open Air metal festival has been sold out for months already, but the fun continues online since Rockalarm.com is broadcasting the event live and exclusively in the internet in cooperation with Tempodome.com and eventim.de. The transmission begins in the morning and goes on until the early morning. Gigs happening simultaneously on two separate stages will be filmed and broadcast one after the other.
Tickets for the big weekend are price scaled and can be purchased at www.eventim.de/wacken. The full 3 Days ticket guarantees a minimum of 40 hours live program and costs 15.90,- Euro. A day access ticket starts from 5.90,- Euro. The six hours of stream on Wednesday July 29th are for free to allow users to get an impression for free on www.rockalarm.com.
Tempodome.com, specialist for interactive Live-Streaming, transmits the Open Air stream to the internet. Eventim.de provides the virtual tickets for the live stream and handles the execution. Rockalarm.com, a portal for hard & heavy music lovers, presents the stream exclusively on its website.
Wacken Open Air takes an exceptional position at the Festival division: Wacken is completely sold out months before Wacken starts. More than 70.000 metal fans from all over the world celebrate a three-day-party from 30th of July to 1st of August in a small northern town of Germany.
Wacken Live Stream – facts
Freestreaming
Wednesday (from 07:00 pm): Victims Of Madness, Bai Bang, Bon Scott, Onkel Tom, Mambo Kurt
Already confirmed Lineup on Livestream
Thursday (from 05:00 pm): D:A:D, Schandmaul, Der W, Running Wild, Lacuna Coil, Drone, Bloodwork
Friday (from 11:00 am): Suidakra, Vreid, Endstille, The Waltons, Walls Of Jericho, Nevermore, Callejon, Bring Me The Horizon, Hammerfall, Coheed and Cambria, Nervecell, Insidious Disase, Eths, Doro, Amon Amarth
Saturday (from 12:00 pm): Napalm Death, Rage, Kampfar, Sarke, Heaven Shall Burn, Axel Rudi Pell, The Fading, Borknagar, Volbeat, UK Subs, Saxon, Gwar, Subway To Sally
(and many more!)
Day access and weekend tickets can be purchased at www.eventim.de/wacken - Presented by www.rockalarm.com.