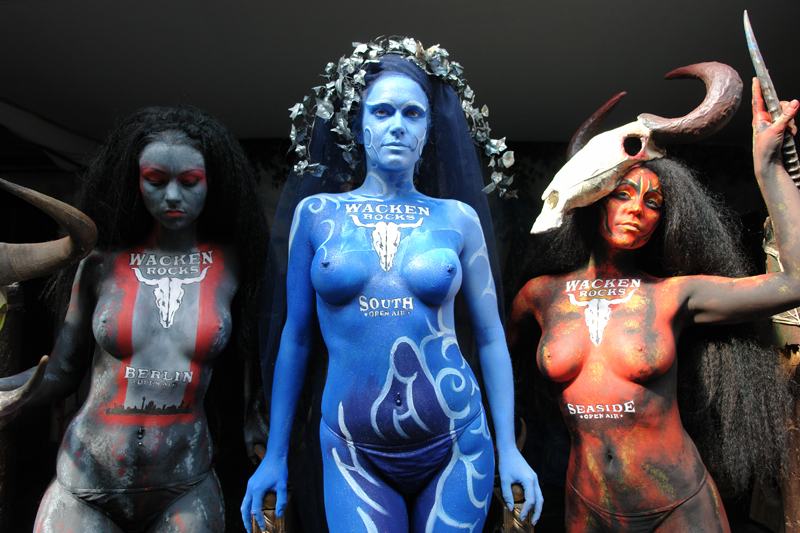 Wacken Rocks - Heavy Rock On Soft Skin
Dear Metalheads,
The following text plus photos reached us recently via newsletter and of couse we`d like to share them with you!
"Heavy Rock On Soft Skin"
Body-Paintings for the Wacken Rocks-Festivals
Wacken (08-04-2009) – The spring this year spoiles german rock-fans by three festivals on one weekend. With the main thread "Wacken Rocks" there will be performances in Aurich (May 21-23), Rieden/Kreuth (May 21-23) and Berlin (May 30) of more than 20 bands on stages - from The BossHoss to Torfrock to U.D.O. to In Extremo and Der W.
The festivals are initiated by the heads of W:O:A, which already has been sold out since the end of 2008 by 70.000 metalheads.
"Wacken Rocks" started with an eye-catching-publicity.Germanys most famous bodypainter Jürgen Weber painted three delicious models with the Wacken Rocks emblem. The living works of art Lea, Mia and Jenny had showen themselves after the painting on the Burgplatz in Düsseldorf.
And who knows: Maybe the three hot girls will check out the Wacken Rocks Festivls in Aurich, Rieden/Kreuth and Berlin, to regale the eyes of the fans.
This is: Heavy Rock on soft skin!"
Source
Markus Müller Media Consulting - www.m-zwei.com
Follow this link for further photoseries:
CHEERZ
W:O:A Team