Important
This article is VERY old (older than 2 years)!
Wacken Rocks presents - OPEN AIR BERLIN 2009: DER- W , Heaven Shall Burn + special guests at the Zitadelle in Berlin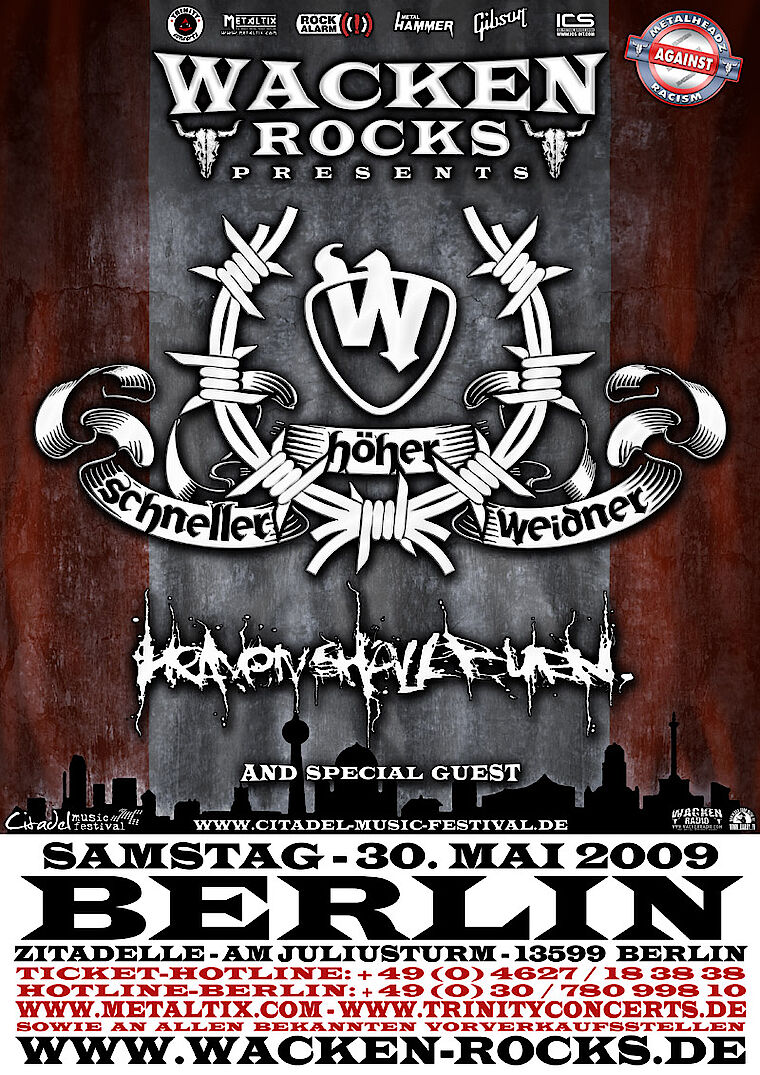 Preannouncement!
After the gig in April in Berlin's Columbiahalle which is already sold out Der - W will come to Berlin once again in May for a headliner show in the legendary ZITADELLE, currently the best Open Air location of the city.
Also on board are the new and most important heroes of the Metalcore scene >> HEAVEN SHALL BURN << as well as other TOP ACTS.
Location: www.citadel-music-festival.de/
Date: Samstag, 30.05.2009
Entry: 16.00 Uhr
Start: 17.00 Uhr
Admission:35,- plus fees
Adv. Bkng:www.metaltix.com sowie an allen bekannten VVK-Stellen
Starts on: Montag, 20.10.08 um 12.00 Uhr
Stephan Weidner - Der W - at WACKEN ROCKS presents - Open Air Berlin 2009
Stephan Weidner was songwriter and mastermind of the Böhsen Onkelz for 25 years,
one of most successful German-speaking rock bands of all times. This spring the guy from Frankfurt released his solo debut under the name "Der W" with the title "Schneller, Höher, Weidner" which made it directly to # 2 of the German longplay charts and stayed in the Top100 for almost half a year. On his album "Der W" continues where he left with his band in 2005: modern, guitar-orientated Rock – guaranteed live – compatible and inciting.
After the end of the almost sold out Headliner tour through Germany, Austria and Switzerland, Weidner will also take over the Headliner position WACKEN ROCKS presents in Berlin.