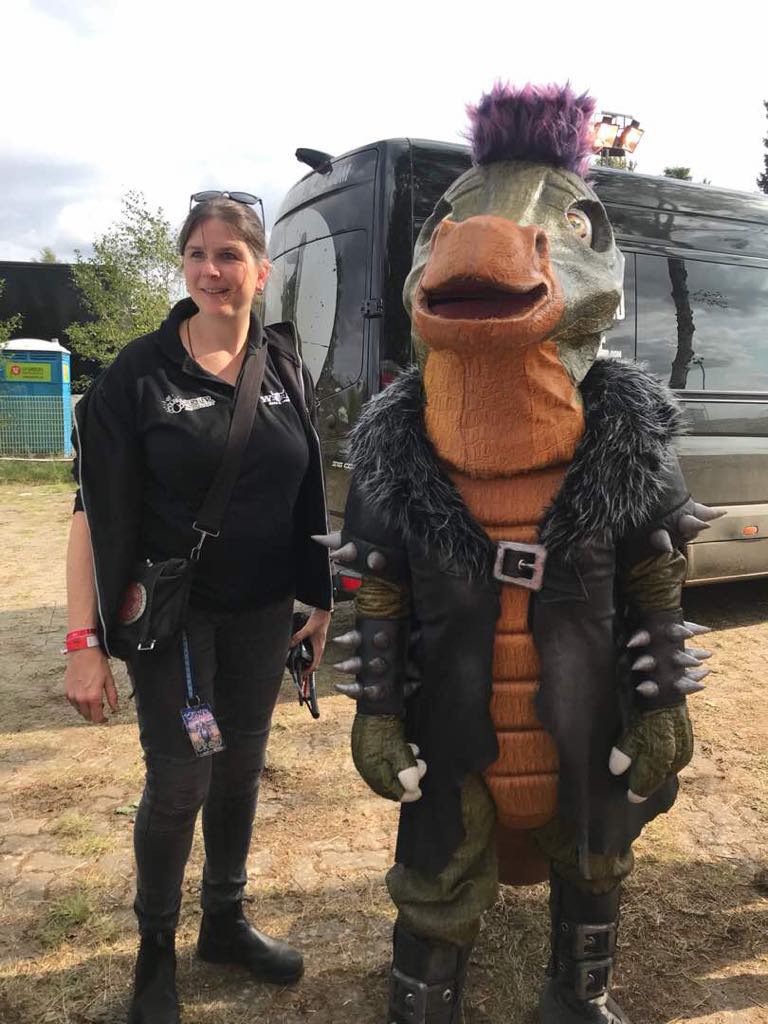 Wacken Stories: Sonja Lattwesen
Almost 30 years of W:O:A lead to many, many great stories – crazy, heart-warming, revealing, or just plain funny. To collect those stories, we have talked to the people that live, work or party around the "Wacken Holy Ground". Their experience illustrate the festival's extraordinary spirit, so have fun with special anecdotes which you won't find everywhere else: Here are the "Wacken Stories"!
---
Sonja Lattwesen (Artist Production, tamer of chaos, adrenaline junkie)
"I've never witnessed so much adrenaline"
For almost one and a half decades Sonja Lattwesen has been part of the Artist Production, coordinating all aspects of the artists' shows. For today's Wacken Story she recalls the most intense day of her personal W:O:A history. Arch Enemy might remember it, too.
"My first W.O:A was in 1998, when I was acting as a reporter from the campgrounds. Wacken is really something else. Seeing a small city pop up from out of nowhere and seeing how the people take care of each other is truly something special. I know about other festival organisers arguing with church officials. Here the production office has as a key to the actual church, because we're allowed to use it for performances.
One of my favorite memories is from Arch Enemy's show in 2006, which turned out to be the biggest energy generator ever. I've never witnessed so much adrenaline. The idea was to have band and crew arrive on the day before, have them stay at the hotel and then take them to the festival the next morning. Unfortunately several airlines went on strike right at that time. So we had to rebook everyone for the next day, but on separate flights. We managed to get hold of as many cars as possible to make sure we could shuttle everybody to Wacken in time. But of course there were traffic jams, so that added up to the general tension. Musicians and techs were pretty tired from all the traveling, so everybody pitched in to help setting things up. Suddenly we realized that half of the band's gear was missing because of the flight chaos! So I went and organized everything possible from our backline crews and other musicians and rushed back to the stage, where Michael Amott, Sharlee D'Angelo and all the others were plugging everything together. It was literally a few minutes before showtime when their sound guy finally arrived. He just grabbed some effects from his luggage, hooked them up real quick and made a dash through the infield to get to the front of house. A linecheck (just a basic test of the instruments - ed.) was out of the question, the band even had to get changed right behind the stage. All of a sudden I realized that singer Angela Gossow has gone missing! She had done an important interview scheduled before the show and afterwards hid behind the catering tent to warm up her voice . But I managed to find her as well. We had a total delay of just five minutes. I honestly don't know if Arch Enemy ever performed with that much adrenaline in their veins, but it was definitely the best show I've seen them play. Just for the record: ten minutes after the band was finished the last missing crew member arrived."
Sonjas wish for the 30th W:O:A, if anything was possible:
"The return of Rammstein."
Text: Tom Küppers
Do you want some more? All already released stories are available here!