W:O:A 2012 – X-Mas Presale & first band confirmations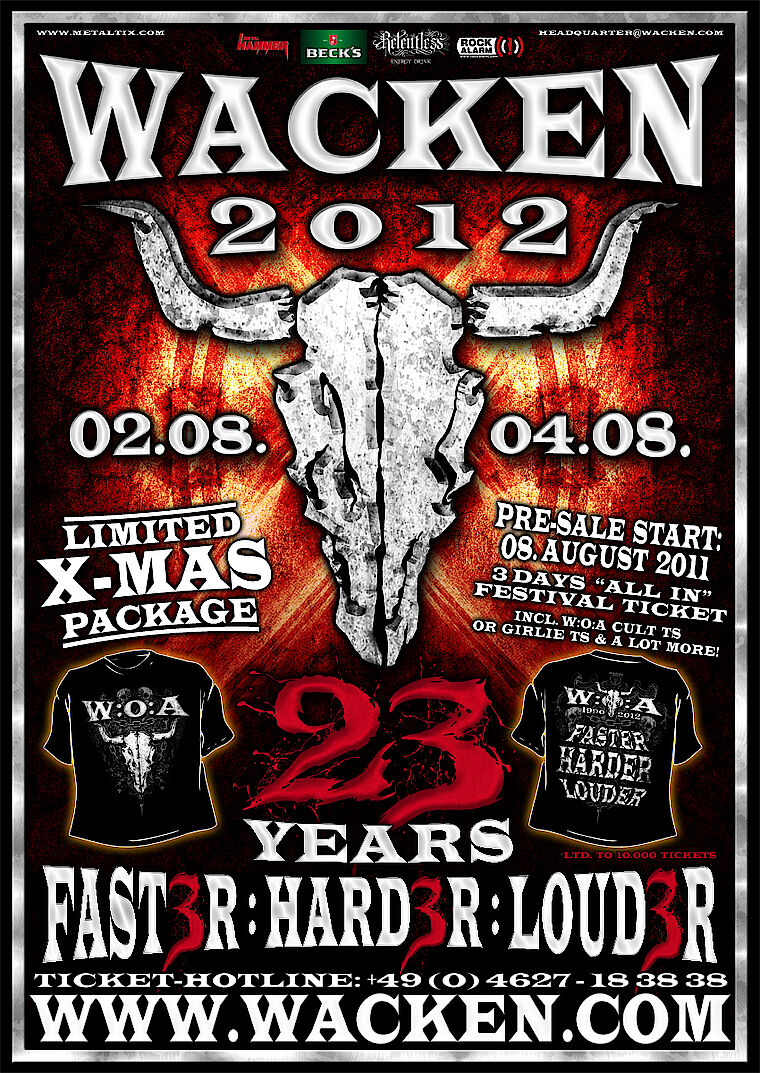 The best party in the world is in full progress, the weather god is smiling on our heads und we are enjoying the last few hours together with you at the 22nd Wacken Open Air!
As in 2010 we will start with the presale of the W:O:A X-Mas Package 2012 directly after the festival.
That's not all! We can already announce the first Mega-Acts for next year!
SCORPIONS – Best of… last german Open Air Show ever!
They wrote music history and are one of the most successful German rock bands of all time! We speak about the Scorpions! Rudolf Schenker, Klaus Meine & Co will shake the field during the "Night to Remember" for the last time with a "Best of" setlist without any comparison. A really unforgettable live experience and a MUST SEE for all fans who want to see their idols for the last time on a German Open Air stage!
MINISTRY – Best of… Show
Uncle Al is back! The industrial legend, which created a completely new style of metal with the record "Psalm 69", is back again!
After their 25th anniversary farewell shows back in 2008 the band of mastermind Al Jourgensen returns to destroy Wacken once again!
Hammerfall – Anniversary Show
The Swedish power metal legend returns to Wacken! Joacim Cans and his band played W:O:A for the first time 15 years ago and will celebrate this stage-anniversary in 2012 with us!
U.D.O
U.D.O will also rock Wackens stage in 2012 and will celebrate their unique anniversary and birthday show!
Amon Amarth
The Vikings return to Wacken! After climbing to the top of the Viking metal scene during the last few years, Amon Amarth will be back once again; FASTER:HARDER:LOUDER !
GammaRay
The german speed-/power metal heroes give themselves the honor to play the Wacken Open Air 2012! Kai Hansen and his colleagues will be burning down the house!
Cradle of Filth
After they unexpectedly had to cancel this year it was a matter of honour for them to confirm for W:O:A 2012
With this amazing lineup we will start the presale of our (limited to 10000) X-Mas packages (incl.T-Shirts and more) on Monday, 8th of august 2011 at 00.01 am.
So get your tickets as long as you can!
Here are the facts:
23rd Wacken Open Air 2012
02.08-04.08.2011
X-MAS-Package on sale now!
3-Days-"ALL IN"-Ticket = 120€
incl. VAT + 10,-€ pre-sale fee
incl. W:O:A Cult- T-Shirt and many more
Limited on 10.000 Tickets
Pre-sale start: Monday 8th of August at 00.01 am
Each customer can order a maximum of 10 tickets
The shipping will start promptly
The tickets can be found at www.metaltix.com!