W:O:A 2023 - The bands for the Night to Dismember have been unleashed!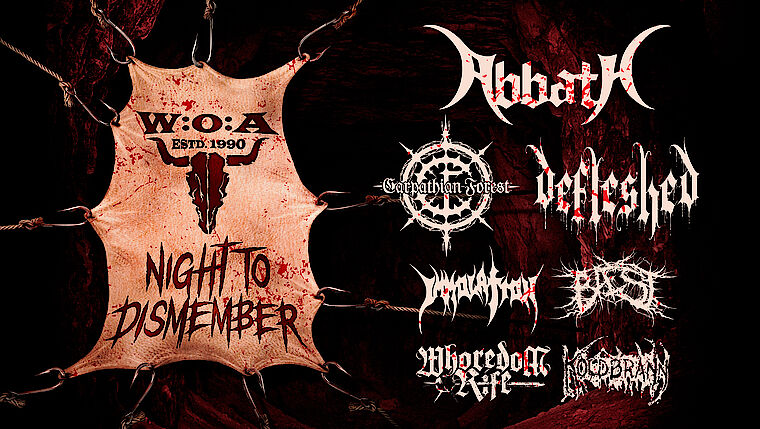 2016 we decided to give all your demonic spirits a new home during Wacken and gather on TWO stages for ONE night the hardest, fasted and blackest bands from our bill. Appropriately we called that evening "Night To Dismember" because at the same time our Thursday mainstage motto, where we unite classics and legends is as you know "Night To Remember".
So far so good! For the 5th time we stepped into the abyss and salvaged the blackest of thee black and we are sure these names and artists will make your blood freeze and fire up your cold hearts at the same time! Here are the candidates for our nocturnal descent into the depth of hell, please welcome to the line-up, playing on the "Night To Dismember"

Abbath
You don't have to say many words about Olve Eikemo - he does that himself! And that very well. His quote "There is a special place for me in hell - the throne" has become legendary. Just like his old band, which undoubtedly belongs on the winners' podium, to the Unholy Trinity of the BM. But Immortal with Abbath is history and he cements that with hismeanwhile third already legendary album Dread Reaver on which he give his and our demons a pretty good shake.
If not already towards destination hell, Abbath for sure is on the highway to Metal-Mount Olympus. With a stopover in Wacken of course.
Carpathian Forest
Blood, Sex and Vomit paved his way: This is what he biography of Nattefrost, Carpathian Forest's central protagonist, could be called! Hardly any other band has dealt with the cultural assets of black metal in their stage shows as aggressively as these Norwegians. Already in 2004 they caused pleasant horror during their show at what was probably one of our darkest editions of the festival. 19 years later the band is hungry like never before. Shall be interesting to see what hellfire they are going to ignite at the Night to Dismember!
Defleshed
In 12 years of band history, Defleshed really managed to build up a cult following. The faces of the fans were correspondingly angry when the band announced their exitusin 2005. To this day fans are still scratching at Lars' door and demanding a reunion. That year, Defleshed's flesh finally became weak and they headed into the studio. It worked out so well that they not only spat out a new album, named appropriately "Mind over Matter", but the fire was was back to shake up the stages as the old gang. No better place for that than WOA!
Baest
We will lower the average age on stage a bit this evening with Baest from Denmark. Founded in 2015 musically they are at least as brute as their grey-haired colleagues. Baest means animal in Danish, and we realize we are also dealing with quite a hellhound. On their way towards the inferno following on the footsteps of the forefathers Morbid Angel, Baest still packed a big, fat suitcase with their very own style. Check it out!
Whoredom Rife
You might think the band with the tame name Whoredom Rife arrived straight from 1992 in their time machine. True Norwegian Black Metal fans surely are going to warm their black hearts on this one. Their tracks are mainly kept in their mother tongue, so one can only guess what dark visions are hiding behind the lyrics here. But one thing is clear, the two masterminds V.Einride and K.R. will not do so to well at your parents' christmas table. Nor should they. They fit the WOA Night to Dismember much better - and hopefully they won't take the motto too literally.
Koldbrann
One of Koldbrann's members writes autopsy reports for morgues, but that's probably just the icing on the BM-cake baked by these dark fellows from Norway. Koldbrann, which translates to "gangrene" in English, will probably grind its way into marrow and bone like such. This one will be 50 shades of black to punch your headlights out. No surprise here: Singer Mannevond is no stranger in the dark circus, he also likes to spread black vibrations at the slaughterhouse institution Urgehal.
Immolation
Hardly any marriage lasts as long these days as the musical connection between Ross Doland and Robert Vigna. The two forefathers of their growling monsterbrat Immolation have been holding the reins since 1986 when it comes to dominating the kingdom of so-called New York Death Metal. Not to say: And who invented it? Immolation! Therefore, there is no need for a big introduction, but rather a small but important hint: Check out Immolation's latest work Acts of God and practice singing along to welcome the kings back on our stage accordingly!k zu liefern.
We hope that we have made a lot of you happy with this Halloween gift!

yours
W:O:A team