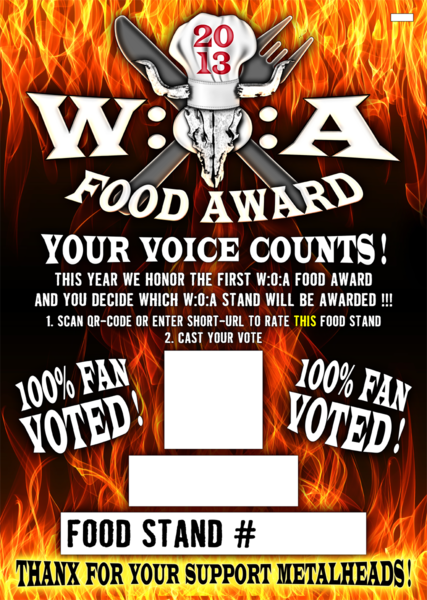 W:O:A Food Award 2013 - the winners!
At Wacken Open Air 2013, every visitor had the chance to rate the food stalls on both campgrounds and festival site. Every stall could be rated using a special website and a mobile device.
The voting was anonym of course! The visitors could rate the taste, the portion size, the price, the cost-benefit ratio and the hygiene of the stall.
Many visitors made use of this opportunity and the voting's attest a high quality standard at the W:O:A overall. There were no complete failures but several complete failure stalls!
The winners of the single categories are:
Taste
Der Spießer (inside the Wackinger-Village)
Portion Size
Art Cusine Crepes & Flammkuchen (at the circular arc on the courtyard)
Cost-benefit ratio
British Shopping Gastro Service - British food (on the backside of the Metal Market)
Hygiene
Georgs-Festival-Catering - Pizza Stall (on the backside of the Beergarden-Stage)
We say thank you to all participants and are looking forward to the Food Award 2014!