Important
This article is VERY old (older than 2 years)!
W:O:A Roadshow Pt. II – Join the party!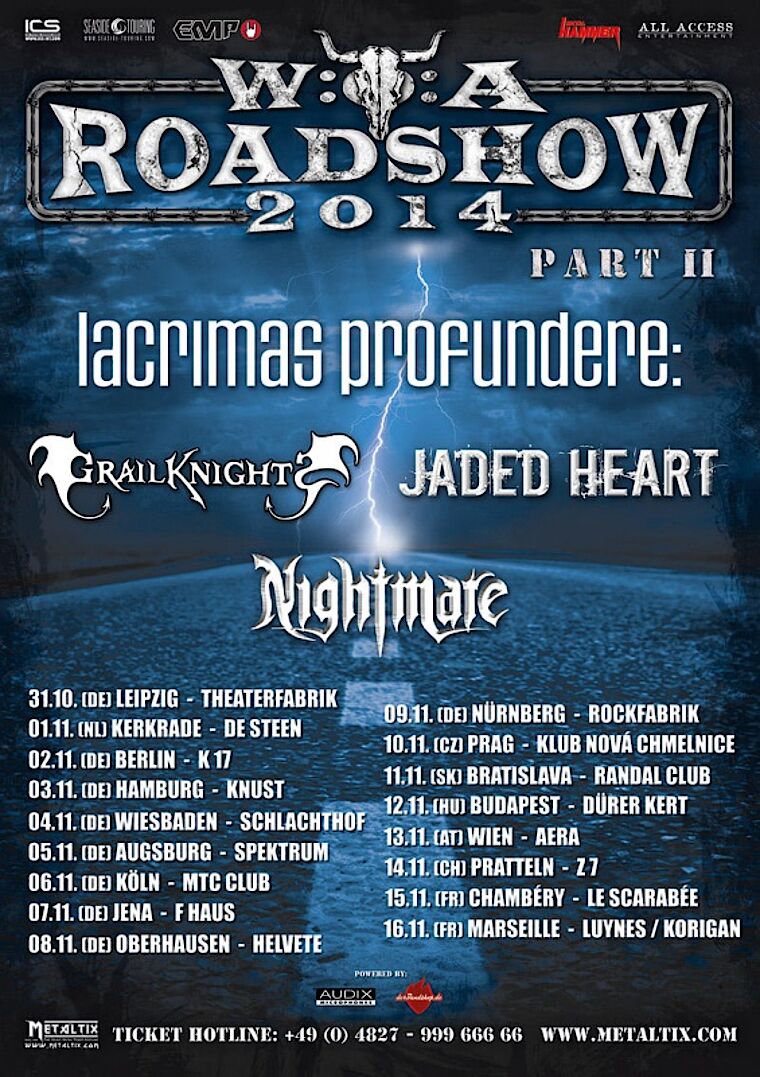 A whole lot of Metal for little money and real Wacken feeling in your favourite club – that is what the W:O:A Roadshow is all about! After the first part with Graveworm, Emergency Gate, Tenside and Kryptos, the second batch of bands hits the road just in time for Halloween:
Dark Rockers Lacrimas Profundere deliver their hard rocking melancholy since 1993. Their last album "Antiadore" saw them perfecting their mixture of Gothic Rock, Doom and melody and was not only welcomed in the black scene.
Grailknights are a special band: Their shows stand somewhere in-between Metal-party and funny theatre, showcasing the superhero's battle against their nemesis Dr. Skull. Fortunately they can always count on their "Battlechoir", which is you!
With members from Sweden and Germany, Jaded Heart have played Hard Rock with a Metal-punch for 22 years. Their new record "Fight The System" shows them angry and powerful – just as you would expect from such a combination.
The real veterans of this concert tour are Nightmare from France and their Power Metal is making the package complete.
As you see, this one's for everybody, so join the W:O:A Roadshow and get your tickets now at www.metaltix.com!
Wacken Roadshow Pt. II
31.10. DE - Leipzig, Theaterfabrik
01.11. BE - Maasmechelen, Jan Hertog
02.11. DE - Berlin, K17
03.11. DE - Hamburg, Knust
04.11. DE - Wiesbaden, Schlachthof
05.11. DE - Augsburg, Spectrum
06.11. DE - Cologne, MTC Club
07.11. DE - Jena, F Haus
08.11. DE - Oberhausen, Helvete
09.11. DE - Nuremberg, Rockfabrik
10.11. CZ - Prag, Klub NOVÁ Chemlnice
11.11. SK - Bratislava, Randal Club
12.11. HU - Budapest, Dürer Kert
13.11. AT - Vienna, Aera
14.11. CH - Pratteln, Z7
15.11. FR - Chambéry, Le Scarabée
16.11. FR - Marseille, Luynes / Korigan