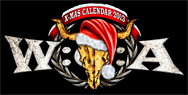 W:O:A X-Mas calendar - hints for participating into the main prize raffle & winners of the 24th of december
Yesterday we have asked the last daily question. With a bit of luck you should have figured out all correct letters for the main solution.
But that´s not all! You have to bring the letters into the correct order.
Until the 6th of January 2014 you have time to send us the right main solution by entering it into the form below the main prizes in the calendar. The form can be found at the "prizes" button on the upper left of the calendar. We already received a lot of correct solutions but for those who need a little help here is a small hint:
The solution has something to do a special birthday and is in English.
And for those who are able to figure out the big main solution we have prepared a lot of special prices such as:
The Amazing Star Price:
Win a cruise with the new Mein Schiff 3 at the western Mediterranean Sea from the 19th of October until the 26th of October 2014. The Voucher is for two and powered by Tui Cruises
More information can be found HERE
More Star Prices:
Rocksmith 2014 (for PS3, XBOX360 and PC) (powered by Ubisoft)
3x NINTENDO 3DS XL (incl. 3 Games)
2x signed W:O:A Guitars
Rock Meets Classic – 1 Meet & Greet for 2 incl. VIP Tickets, signed Program Guide and Backstage Guidance (Choose a city in Germany)
EMP Voucher of 250€ value(powered by EMP)
2 vouchers for Hotel Mercure Itzehoe – redeemable until the 31st of December 2014 (powered by Hotel Mercure Itzehoe)
1x W:O:A Memories voucher of 200€ value(powered by Jenomics)
1y unlimited free Wacken fanmail account for each winner.
All main prizes and the sponsors (Thank you very much!) can be found by clicking the "prizes" button.
And here are the x-mas winners from the 24th of december 2013:
Clark B - Badendorf
Holger M - Berlin
Franziska Z - Hochdonn
Olaf P - Heiligenstedten
Stefanie G - Bochum
All winners will be informed by mail!
And now we wish you a lot of fun at finding out the correct main solution.
yours
W:O:A team