X-MAS Greetings from the Wacken Crew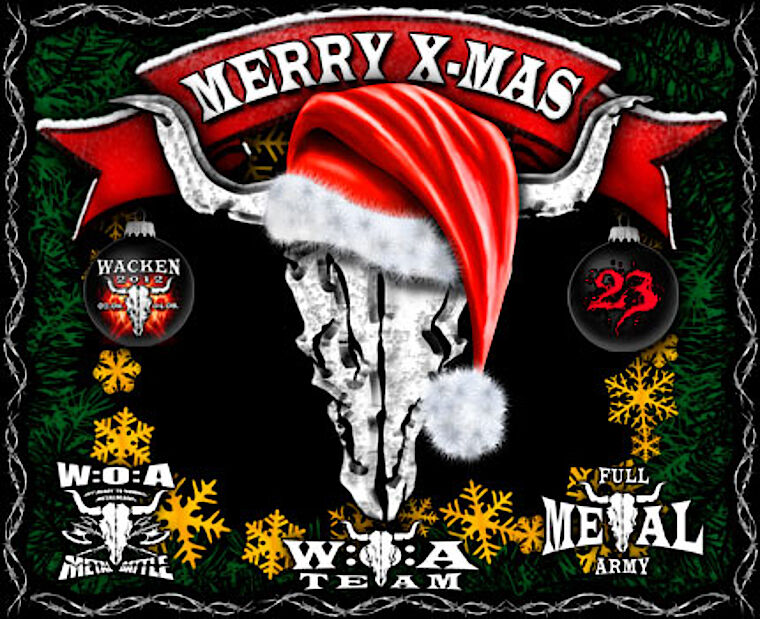 The year 2011 draws to a close – Christmas and New Year´s Eve are just around the corner!
In retrospect Wacken Open Air 2011 again was the biggest metal party of the year and the weather god seemed to be in favour of our festival.
But also with the upcoming W:O:A 2012 we were able to report the SOLD OUT as fast as never before and that´s just because of you – the best fans in the world!
After our X-Mas calendar is finished we´ll be resting during the festive season before we return with full throttle at the beginning of 2012 – watch out for the next specials!
A heavy X-Mas and a good start into the New Year to all fans, friends, bands and metalheads all over the world!
Also Michael Poulsen (Volbeat) & Anders Friden (In Flames) wish you all a HEAVY X-MAS!
VOLBEAT
<script type="text/javascript" src="http://www.wackentube.com/js/embed.js.php?id=3005"></script><noscript><object type="application/x-shockwave-flash" data="http://www.wackentube.com/vimp.swf?playlistmode=media&amp;mediaid=3005&amp;webtv=false&amp;hosturl=http%3A%2F%2Fwww.wackentube.com%2Fflashcomm.php" id="flashcontent_4ef358204f983" classid="clsid:d27cdb6e-ae6d-11cf-96b8-444553540000" name="c6a80378-3eb2-47e7-8415-ba1f7cff037e" codebase="http://fpdownload.macromedia.com/pub/shockwave/cabs/flash/swflash.cab#version=9,0,0,0" width="480" height="360" align="middle"><param name="movie" value="http://www.wackentube.com/vimp.swf?playlistmode=media&amp;mediaid=3005&amp;webtv=false&amp;hosturl=http%3A%2F%2Fwww.wackentube.com%2Fflashcomm.php" /><param name="width" value="480" /><param name="height" value="360" /><param name="align" value="middle" /><param name="quality" value="high" /><param name="allowscriptaccess" value="always" /></object></noscript>
IN FLAMES
<script type="text/javascript" src="http://www.wackentube.com/js/embed.js.php?id=3008"></script><noscript><object type="application/x-shockwave-flash" data="http://www.wackentube.com/vimp.swf?playlistmode=media&amp;mediaid=3008&amp;webtv=false&amp;hosturl=http%3A%2F%2Fwww.wackentube.com%2Fflashcomm.php" id="flashcontent_4ef362794d335" classid="clsid:d27cdb6e-ae6d-11cf-96b8-444553540000" name="c6a80378-3eb2-47e7-8415-ba1f7cff037e" codebase="http://fpdownload.macromedia.com/pub/shockwave/cabs/flash/swflash.cab#version=9,0,0,0" width="480" height="360" align="middle"><param name="movie" value="http://www.wackentube.com/vimp.swf?playlistmode=media&amp;mediaid=3008&amp;webtv=false&amp;hosturl=http%3A%2F%2Fwww.wackentube.com%2Fflashcomm.php" /><param name="width" value="480" /><param name="height" value="360" /><param name="align" value="middle" /><param name="quality" value="high" /><param name="allowscriptaccess" value="always" /></object></noscript>
Faster:Harder:Louder!
See You in Wacken – Rain or Shine
Yours,
W:O:A team