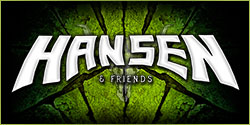 XXX – Kai Hansen goes Wacken with his solo debut!
Metal legend Kai Hansen is known world-wide for his outstanding bands and projects, especially for Helloween and Gamma Ray. Today he is celebrating the 30th anniversary of this career and he is going to make a party with all of you of course!
Only one concert – only at Wacken!
Hansen will present his solo debut XXX at Wacken and this concert will be the first and only one the project is going to play. XXX – Three Decades In Metal will be released in August and was recorded together with Alex Dietz (Heaven Shall Burn), Daniel Wilding (Carcass) and Eike Freese (Producer for Gamma Ray and many more). They will also play the show together and of course there are also some special guests!
Three Decades In Metal
XXX is the story of a young music fan, who decides to become a musician and eventually joins his biggest heroes on stage. While he recorded the album, Hansen remembered his own beginnings. Without help from experienced people, it can be very hard to be a young musician. Therefore he decided to spend the earning of the album to the Wacken Foundation!
He says:
30 years in metal, that's a damn long time. Over the course of all these years, I never recorded a solo album. It is quite nice and a hell lot of fun to create something without any boundaries and to get a fresh view on music. I am celebrating 30 years of being able to do what I like best... On 'XXX' I am reflecting on my roots, where I come from, how it all started for me. I believe you need a certain drive, passion and of course a bit of luck and coincidence to make it in the music world – and of course some financial support. This is where the Wacken Foundation came to my mind. They are helping people, musicians just like me, who want to make it. And I remember having had help myself, from my family, the families from the other band members – and by doing a paper round. So hopefully, with my donation, young musicians are given the same chance that I was given a long time ago, too. And who knows, maybe we all will be playing together at Wacken in 20 years…