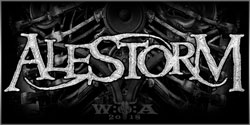 11 new acts for W:O:A 2018!
Today's band announcements sadly have to start with a bad news: Grave Pleasures can't make it to W:O:A 2018. But we can announce a whole load of new acts! Next to some old friends we have also prepared some debutants. Check them out!
Alestorm
Hide the rum, the pirates are coming! Alestorm will again enter W:O:A and turn the pit into a roaring sea of ​​Metalheads and Beer. The Scots are busy as ever, currently they are not only plowing their 2017 studio album No Grave but the Sea - no, they are also celebrating the 10th anniversary of their debut work, Captain Morgan's Revenge.
Helmet
Pushing the New York band Helmet into a niche is not an easy task. Is that Groove Metal, Hardcore or Heavy Metal? And what do we do with this slightly jazzy rhythm? Anyway, it's clear: The band wants to rock the shit out of the stages and we can't wait for them to conquer Wacken for the very first time!
Soen
Soen found their comfort zone somewhere between Tool, Porcupine Tree and Opeth. Main mastermind of the band is Martin Lopez, who already sat behind the drums for Opeth and Amon Amarth and holds this position here as well. Their current album Lykaia is praised by fans and press alike and not without reason. Check them out, if you are into Prog Metal and Rock!
Onkel Tom
Always a pleasure - Tom Angelripper is just fun, whether with Sodom or Uncle Tom! This year, he will visit us again with his Party Metal project Uncle Tom to stimulate beer consumption to dizzying heights. Cheers!
Stiff Little Fingers
Also in 2018, old-school punk will not be missing out on us and we got Stiff Little Fingers to take care of it! The Northern Irish punk band emerged in the turmoil of the Northern Ireland conflict and processed this musically.
Monstagon
Monstagon has performed on the Wasteland Stage for several years in a row, for one simple reason: The band just fits there like an ass on a bucket! It had not worked out in 2017, but we were able to commit the post-apocalyptic band again for 2018. Welcome to the apocalypse!
Wirtz
Daniel Wirtz has emancipated from his band Sub7even for 10 years now and since then he has done a lot of exciting new stuff in this time. His current album Die Fünfte Dimension easily picks up both old and new fans.
Black Inhale
Thrash Metal without compromise is the mantra, the Viennese musicians of Black Inhale have written themselves on their flags. Already the first EP got them a record deal to produce a real album and here they are - ready to smash faces!
Pikes Edge
This Munich band is all about modern metal and you can hear a lot of In Flames DNA here! Other influences are obviously the works of Iron Maiden and Metallica. A refreshing mix that will definitely crack up live!
The Fright
Hard Rock meets Horrorpunk meets Sleaze: The Fright from Thuringia have been active since 2012 and since then they have played a considerable number of tours and released five complete albums! Their last album was released with the support of our Wacken Foundation and now we want to take a look at it live!
Otto & Die Friesenjungs
The German comedian Otto isn't only known for his humor but also for his musically talents. He will turn 70 years old this year and is currently preparing a big rock show for Wacken.
W:O:A 2018 – 02.08. - 04.08.
With: Judas Priest, Nightwish, In Flames, Ghost, Helloween - Pumpkins United, Danzig, Running Wild, Behemoth, Dimmu Borgir, Arch Enemy, Children Of Bodom, In Extremo, Hatebreed, Gojira, Steel Panther, Doro, Alestorm, Dirkschneider, Samael, Cannibal Corpse, Schandmaul, Destruction, Clawfinger, Korpiklaani, Eskimo Callboy, Die Apokalyptischen Reiter, Converge, Riot V, Epica, Tremonti, Wintersun, Oomph!, Amorphis, Vince Neil and many more bands.