Full Metal Cruise - Further bands confirmed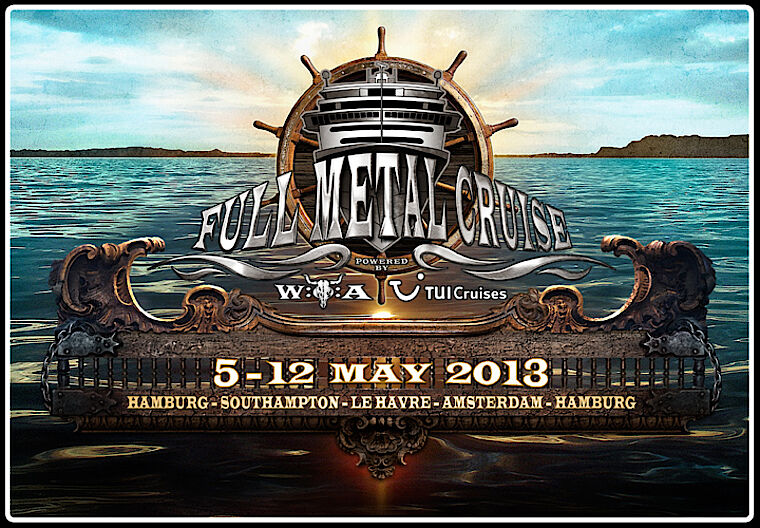 Ahoi Metalheads!
More riffs on the high seas! Today we can announce additional artists to play on the Full Metal Cruise, the biggest Metal cruise in Europe, starting May 2013 in Hamburg.
Two heavyweights of the international Metal scene will be headlining next year's Full Metal Cruise:
Kreator from Essen, Germany have been at the forefront of Thrash Metal for several decades now, shaping the genre since their inception in the early eighties. Their latest album "Phantom Antichrist" was unleashed in June.
Heaven Shall Burn are ranked as the biggest Metalcore act in their homecountry of Germany, playing to large audiences worldwide. Bringing their melodic brand of Metal to the ship will be Masterplan featuring guitarist Roland Grapow of Helloween fame, while Scandinavian Amaranthe offer modern stylings of heavy music with three vocalists. Eric Fish - usually fronting German medieval rockers Subway To Sally - will even have three different gigs aboard the Full Metal Cruise: He will play with his five piece band as well as "Eric Fish solo solo", which means just him and his acoustic guitar. In addition, Fish will be reading from the official Subway To Sally biography. To round things up, the promoters have secured Blaas Of Glory, a heavy metal marching band (sic!) from the Netherlands, known to metalheads worldwide from their hilarious performances in Wackenn.
During the Hamburg Metal Dayz at the end of September, several other high class acts had been announced: Swedish shooting stars Sabaton, German Metal legends U.D.O. and Circle II Circle with special Savatage performances plus the crazy trancecore bunch Eskimo Callboy and A-Cappella metallers Van Canto.
In August, Medieval rockers In Extremo have been confirmed as headliners alongside Doro, Gamma Ray, Betontod, Firewind featuring Ozzy guitarist Gus G., organ wizard Mambo Kurt and Germany's new comedy sensation Bembers. Showing their chops at musician's workshops will be guitar god Uli Jon Roth (formerly of the Scorpions) and drum legend Jörg Michael (of Stratovarius fame).
The Full Metal Cruise is taking place from May 5th to May 12th on board the Mein Schiff 1, travelling from Hamburg via Southampton (London), Le Havre (Paris) and Amsterdam back to Hamburg. In total more than 20 bands on three stages are going to perform with additional concerts taking place in Southampton, Le Havre and Amsterdam. There are only a few cabins left!
Further information and bookings on: www.full-metal-cruise.com