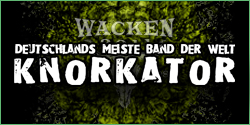 Knorkator waits for you behind the fifth window
Alf Ator and Stumpen found the band Knorkator in Berlin 1994. Some times after the guitar player Buzz Dee joined in the band.
Rodrigo González (die Ärzte) spotted Knorkator 1997, signed them and produced the album "The Schlechtst of Knorkator".
The band released their sixth album "das nächste Album aller Zeiten" in 2007.
One year later Knorkator decides on making a break.
Now the band confirm that they´ll play together again in 2011.
At Wacken Open Air you can see them live!
And here are the winners of the 4th december of 2010
Tanja K. - Hattstedt
Niklas K. - Mettmann
Stig Ø. - Bergen (Norway)
Wenke S. - Bremen
Kevin S. - Alt Bennebek
1 Extra AC/DC Package goes:
Sandra B. - Lengerich
All winners will also be informed per mail!
We wish all winners a lot of fun with their prizes and a good portion of luck during the remaining X-MAS lottery!