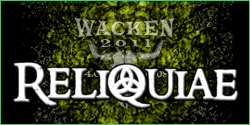 The German medieval band Reliquiae always is on search for musical relic.
Their goal is to attend to the original music and its culture.
Though the fun and pleasure of Reliquiae´s music is in the fore which the bands divides with their following.
In summer 2011 Reliquiae will play at Wacken Open Air festival.
Don´t miss it when they enthuses the audience with their sound.