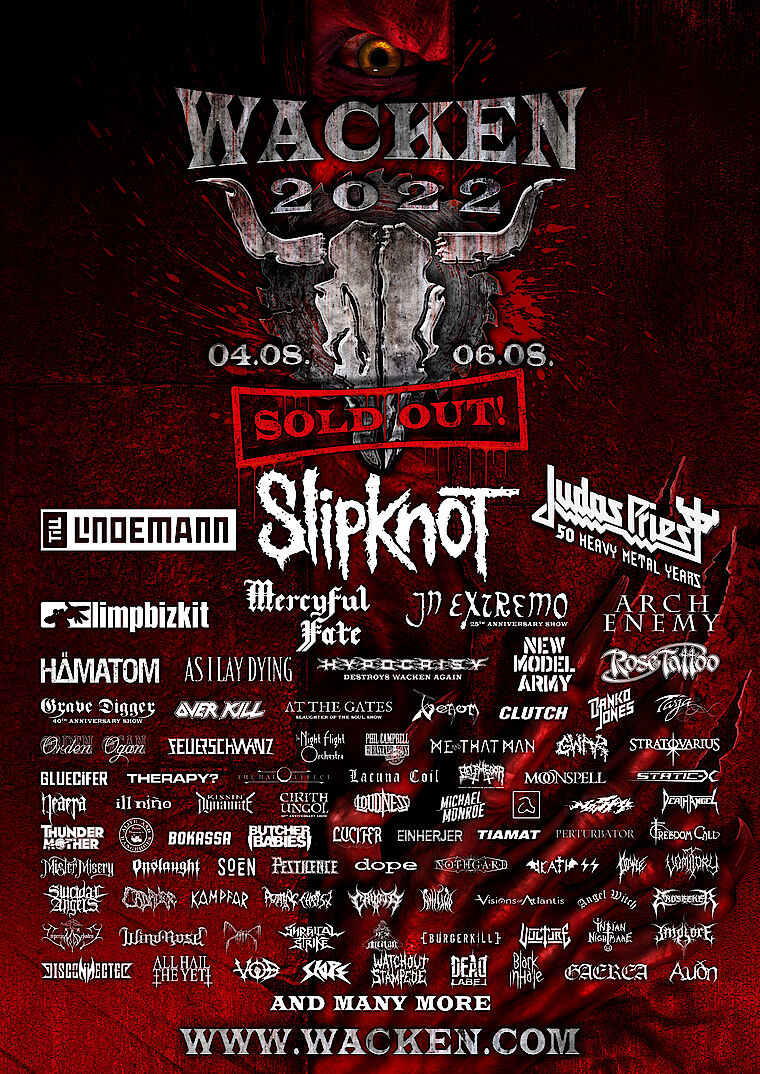 And suddenly Christmas is here. And in keeping with the festive season, we're releasing - as promised - the next new entries for the Wacken Open Air 2022.
The last winners of our daily X-Mas competition at xmas.wacken.com will be announced tomorrow. Why tomorrow? It's simple, today you can take home the last prize in our advent calendar - just click on xmas.wacken.com, enter your details or register with your Wacken.ID and take part!
We are extremely happy to announce the following names for W:O:A 2022:
Arch Enemy return to the holy field! That the Swedish/American/Canadian metallers are eager for the coming year is not only revealed by the two freshly released singles "Deceiver, Deceiver" and "House Of Mirrors".
Feuerschwanz are a phenomenon. Hardly any other German band pays homage to hedonism with as much wink and musical substance as the band from Erlangen. With the new album "Momento Mori" in their luggage, the main man and his troupe are now making the half-dozen W:O:A shows full.
The Night Flight Orchestra invite you to the ultimate dance evening. Featuring Bjorn "Speed" Strid and Daniel Andersson from Soilwork and Sharlee D'Angelo from Arch Enemy, among others, this top-class all-star band pays homage to the good old days of classic hard rock and AOR and drags even the driest headbanger onto the dance floor in no time. As already impressively proven in 2019.
With Venom, we welcome another legend to the Wacken Open Air. Led by founding member Cronos, the band has shaped an entire genre with classic albums like "Black Metal" or "Welcome To Hell" and also shows with new albums like "Storm The Gates" that this trio is still a force of nature.
Already after the first single "Shadowminds" it was clear to us: We absolutely have to have this one in the coming year. That's why we are proud to announce that The Halo Effect will play their first and exclusive show in Central Europe! If you add the names Jesper Strömblad , Daniel Svensson, Peter Iwers, Niclas Engelin and Mikael Stanne together, you get a pretty good idea of the potential of this new band. We are very happy that this has worked out!
In 2016, some visitors were still slightly surprised by Therapy?, but after the Irish band's performance it was clear: we urgently need to get that again. Because a hit is and remains a hat - and this band has quite a few of them in its quiver.
In the same year, we also had the Japanese metal legend Loudness as guests, and here too it was clear that this would not be the quartet's last visit. You can look forward to classics like "Crazy Nights" or "So Lonely".
Gluecifer, on the other hand, will celebrate a Wacken premiere. The self-proclaimed "Kings Of Rock" have taken a little time out and are now firing from all cylinders again - not only friends of Scandinavian snot rock should make a note of this! The same can be said about Neaera. Actually shelved in 2015, then getting up the mood for concerts again, then even a new album in 2020 and now in Wacken for the third time - it's great that you're back!
With their previous visits, Imperium Dekadenz from the Black Forest impressively proved why they belong to the spearhead of international extreme metal. And this time is guaranteed to be no different.
Just as extreme, albeit in a completely different way, is Pertubator. Once started as a Black Metal guitarist, the Frenchman has meanwhile discovered other spheres of sound for himself, which are no less dystopian.
If you like your metal a little more modern, you should make a note of the appearance of Watch Out Stampede, whose new single "Goddess" is also an absolute hit that makes you hungry for live music.
Last but not least, we are happy that we were able to sign Disconnected and Slope, two of the hottest newcomers.
We wish you a Merry Christmas and a Happy New Year - see you next year!
Your W:O:A Team