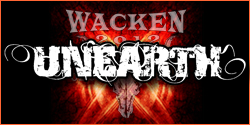 Unearth + Wölli & die Band des Jahres on the 18th of december
Unearth - Also the guys from Massachussetts will be part of next years line up to present us their mix of melodic death and thrash metal. Besides classic songs they will for sure blow us away us with the songs from their newest output "Darkness in The Light".
More under Billing/Bands
More than 15 years Wolfgang "Wölli" Rohde had played as drummer for "Die Toten Hosen". This year he releases as "Wölli & Die Band des Jahres" his first solo album titled "Das ist noch nicht alles". And all this at the age of 61. Although the fact that there´s no show by "Die Toten Hosen"the performances of Wölli & Die Band des Jahres will be a must-see for every true fan.
More under Billing/Bands
And here are the x-mas winners from the 17th of december 2011:
Jakob V - Thum- herold
Silja B - Bargum
Dani S - Düsseldorf
Sebastian O - Oberhausen
Scott dorfman S - Foxmeadow lane, unionville, ontario canada (Lrv)
All winners were already informed by mail!
Tomorrow we will announce the next band and xmas winners!