Wacken Stories: Gerd Nottelmann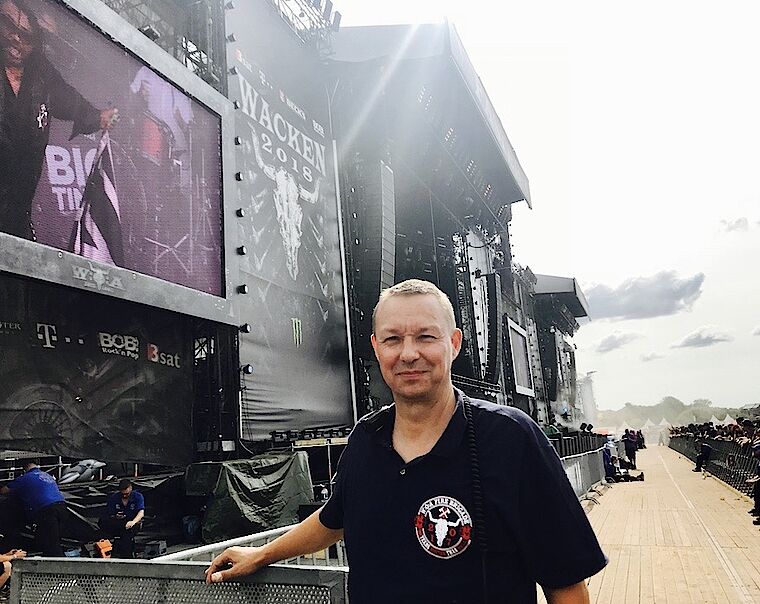 Created by Katharina Metag
Almost 30 years of W:O:A lead to many, many great stories – crazy, heart-warming, revealing, or just plain funny. To collect those stories, we have talked to the people that live, work or party around the "Wacken Holy Ground". Their experience illustrate the festival's extraordinary spirit, so have fun with special anecdotes which you won't find everywhere else: Here are the "Wacken Stories"!
---
Gerd Nottelmann (Fire brigade squad leader)
"We reenacted Wacken in the southwest of Germany"
Gerd Nottelmann ending up at the W:O:A was like festival mud on our shoes: inevitable. Being the squad leader of the local fire brigade in Holstenniendorf, the village right next to Wacken, Nottelmann is simple responsible by law.
"On average, our fire brigade is called into action six to ten times a year, so naturally the W:O:A is a highlight every time. We're always taking turns for the shifts with our colleagues from nearby Gribbohm and Wacken. I started out in 2001, and at first I had to get used having to organize "a little bit" more than usual.
That's why I worked out a weeklong exercise and drill to take place in the city of Ahrweiler. That essentially meant: We reenacted Wacken in the southwest of Germany. We worked through several emergency scenarios, for example a tornado or a pandemic, to test our structures. We were taught by people from the Federal Office of Civil Protection and Disaster Assistance as well as other experts. Also taking part were the festival's organizers, the head of the police department and the medical rescue services working at the W:O:A. Over the course of three days, we rehearsed emergency situations in real-time, 24 hours a day. After that we took a trip the Rock am Ring festival, which takes place not far away from Ahrweiler. There we had the chance to talk to our colleagues about their experiences and security measures. It all ended with a wine tasting.
Our team hasn't changed much since then, and that's a good thing: You really learn how all parts of the system work together. We're also lucky regarding the people at the W:O:A, which always had a stellar audience. Everybody is friendly and acts sensibly. But only when the festival is over without any incidents and I can sit down on my porch on Sunday afternoon, I can really come down and relax."
Gerd Nottelmann's wish for the 30th W:O:A, if anything was possible:
"Status Quo have been my personal highlight. But for AC/DC I would be in front of the stage again."
Katharina Metag