Wacken Stories: Hansi Kürsch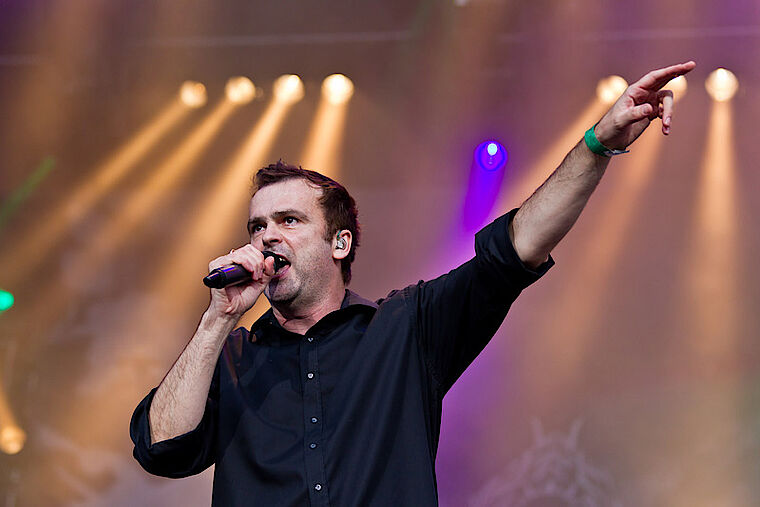 Almost 30 years of W:O:A lead to many, many great stories – crazy, heart-warming, revealing, or just plain funny. To collect those stories, we have talked to the people that live, work or party around the "Wacken Holy Ground". Their experience illustrate the festival's extraordinary spirit, so have fun with special anecdotes which you won't find everywhere else: Here are the "Wacken Stories"!
---
Hansi Kürsch (Blind Guardian singer, kilt expert, curser of mirrors)
"I'm not a Scotsman, I don't know on which side a kilt opens"
The devil is in the details: Blind Guardian singer Hansi Kürsch knows his way around big stages, but he has little clue about traditional Scottish clothing. So when he joined Grave Digger on stage, he experienced his special "Wacken Story" in front of tens of thousands of fans…
"People tend to worry way too much about the wrong things. That is especially true for one's personal appearance at the W:O:A. Is my hair right? Do I look cool enough? Or am I a bit too chubby? As you can see from the following experience: In 2010 I was invited by my friends Grave Digger to join them on stage in Wacken. I was really looking forward to that. But while the mind is strong, the body is weak: In true rockstar fashion, I arrived way too late at the backstage area. Grave Digger were planning to play their 'Tunes Of War' album in its entirety, so Chris (Boltendahl, singer - Ed.) lets me know that everyone should wear Scottish clothing. 'No problem!', I reply without thinking too much of it.
Come showtime, Chris is wearing a deluxe version of a kilt, Doro has a wonderful dress. And what about me? I get a classic kilt like everybody else, of course. I had also heard that true Scotsmen go bare chested, with no shirt at all. 'Well, I'll see this through', I think to myself. But there's a little, nagging voice in my head: 'Are you sure about that no-shirt thing?' I get my answer with a swift glance at myself in the dressing room mirror. And what's more, I decide there and then to go on a strict diet before the upcoming Blind Guardian tour starts. Damn that mirror! But why at this point I pull off the kilt again, I can't remember. Maybe to put on some underpants, even though 'true' scotsmen supposedly also go without them? Whatever the reason, there's a headline show in Wacken starting in a few minutes, so in the heat of the moment I put on the kilt again the wrong way round. I'm not a Scotsman, how should I know on which side a kilt opens? Today I do…
Just a little later I'm running out on the big stage, with my half-baked knowledge of Scotland and rebellion, and of course I put my leg up on the monitors in a kickass rockstar pose. Let me tell you: Those kilts always open up on the back side – and that's on my front tonight. So the inevitable happens: Immediately thousands of fans get a good, good look at my underpants.
The photographers of course go crazy, and the guys filming stay on me for quite a while, probably hoping I show some more. Yes, these are images you don't forget. Who needs naked skin after this? Sometimes less is more. (Wait, let's scratch that, could be misinterpreted.) But the audience is having a good time, and I secretly pat myself on the back for another successful Wacken appearance. But just imagine I had gone without any pants at all? I would've earned much respect and sympathy from all female and probably male fans as well.
That night turned out to be hugely enjoyable anyway. After all, people also like me because of my charming personality! Plus I learned several things. Firstly, I'm no scotsman. Secondly, fashion and dress codes are overrated. And of course: A kilt opens in the back, and last but not least: Wacken does have educational value."
Hansi's wish for the 30th W:O:A, if anything was possible:
"Led Zeppelin, and I don't mind the young Bonham. Let the dead rest in peace."
Text: Christof Leim
<iframe width="560" height="315" src="https://www.youtube-nocookie.com/embed/PbzSWcRM9u0" frameborder="0" allow="autoplay; encrypted-media" allowfullscreen=""></iframe>
Do you want some more? All already released stories are available here!