Wacken Stories: Tom Angelripper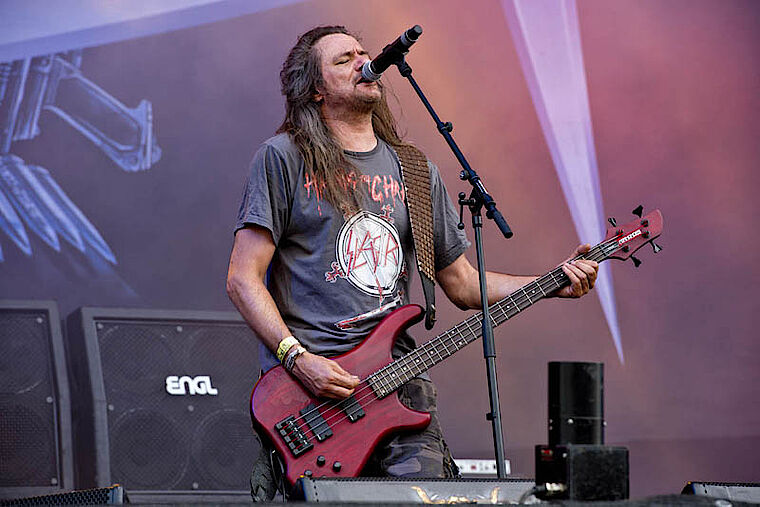 Almost 30 years of W:O:A lead to many, many great stories – crazy, heart-warming, revealing, or just plain funny. To collect those stories, we have talked to the people that live, work or party around the "Wacken Holy Ground". Their experience illustrate the festival's extraordinary spirit, so have fun with special anecdotes which you won't find everywhere else: Here are the "Wacken Stories"!
---
Tom Angelripper (Uncle Tom, Sodom singer, professional smoker)
"He swore never to travel with 'Smoke Team Sodom' again"
Tom Angelripper is part of the family in Wacken: He has played 16 times on the Holy Ground, be it as frontman for Sodom or with his solo band Onkel Tom. In today's story he remembers his favorite moments – including a family trip, cigarette emergencies and mud up to his chest.
"I always feel honoured to be invited to Wacken. That's why I try to give all my shows there something special. When Sodom played in 2001 for example, we wanted to descend to the stage from helicopters. Everything was planned out but it had to be cancelled for insurance reasons.
In 2007 we celebrated our 25th anniversary as a band as part of the "Night To Remember". For this, we invited all musicians that have been part of the Sodom at some point in our history. Holger and Thomas suggested to stay for the whole weekend, so we all piled into a nightliner and traveled north. That totally felt like a big family trip. Getting there was the stuff of legends already – the amount of cigarettes we smoked was really something. Andy Brings doesn't smoke, so he swore in all seriousness to never ever travel with 'Smoke Team Sodom' again.
On the day of the show our tour manager barely got me out of bed in time. God, my head hurt! But the concert itself was awesome, even though we couldn't rehearse some songs more than once. To be on stage with those people after all those years got me goosebumps. That was a beautiful moment.
Of course something less nice happened as well: The next night we had to declare a state of emergency, because we ran out of cigarettes. We had to march all over the festival site to get new supplies. But someone had dug a hole somewhere on the field and covered it with straw. And who steps right into it? Me. So I found myself up to my chest in stinky mud! Several people had to pull me out. The big problem: I only had one pair of leather pants with me, and I was wearing them. That weekend won't be forgotten for a long time, that's for sure. Oh, and I still own those pants, cleaned-up of course."
Tom's wish for the 30th W:O:A, if anything was possible:
"It would be very cool if Slayer celebrated their farewell in style at the W:O:A."
Text: Tom Küppers
Do you want some more? All already released stories are available here!