W:O:A Heavy Easter Raffle - Search Easter Eggs on wacken.com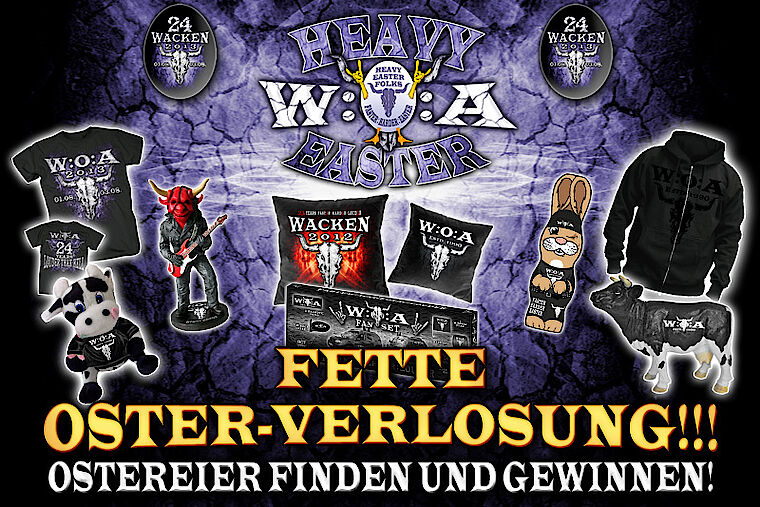 This year´s Winter is more or less lying in its last gasps. Spring and the Easter days are just around the corner and regarding to this we will start, in addition to our Easter Office special sale (all info can be found HERE), our first Heavy Easter Raffle.
How to participate?
It´s very easy – search Easter eggs on www.wacken.com and get the chance to win amazing prices!
On Thursday we will hide 5 Easter eggs somewhere on www.wacken.com. Each of them must be clicked to get one out of overall five text blocks needed to build the correct solution word/sentence. If you are able to find them all you need to build the correct main solution and send it (including your full name and address) to verlosung@wacken.com. There is no right of appeal!
Among all participants we will raffle 10 W:O:A Merchandise Packages including:
1 W:O:A 2013 Logo T-Shirt
1 W:O:A Zip Hoodie
1 W:O:A Plush Toy Cow
1 W:O:A Chocolate Easter Rabbit
1 W:O:A Fas Set
1 W:O:A Cow Bank
1 W:O:A 2013 Pillow
1 Horny Henry Figure
1 W:O:A Candle
The Heavy Easter raffle starts on Thursday March 28th and ends on Monday 1st of April 2013.
But that's not all! As promised there we will be a new band confirmation for this year´s W:O:A line-up!
So stay tuned!