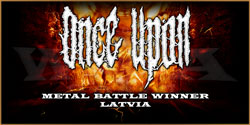 Another four Metal Battle 2017 finalists will expand the line-up!
We are getting closer. The next Metal Battle finalists we want to present to you are from Latvia, Portugal, Romania and Sweden.
Once Upon are an alternative metal band, founded in 2012 in Riga. With a performance at legendary Bloodstock Festival and a nomination of their song "A Letter to My Agony" as best hardcore/metal song 2016 at the 15th Independent Music Awards they already managed to gain a lot of attention.
Analepsy play brutal Death Metal and call themselves the musical apocalypse. Founded in the end of 2013 the band has already recorded 2 EPs and a full lenght album.
E-an-na have established themselves in 2014 and combine modern metal influences with Romanian folk sounds. Amongst their musical instruments you can find whistles, ukulele and mandolin just to name a few. In 2015 they were nominated as metal newcomer of the year in their home country.
Nale has been around since 2007 and quickly became a local sensation. After two EPs produced by grammy awarded producer Chris Laney (Candlemass, Europe, Crashdïet) at the Polar Studios the band released their debut full length album which was produced by Lawrence Mackrory (F.K.Ü, Darkane). The band already played at some big festivals and also did a tour across Sweden sharing stages with Crucified Barbara.
Congratulations to all new finalists! We are looking forward to see you live on stage here at the finale in Wacken!